« Obituaries | Charles E. Mesplay
Charles E. Mesplay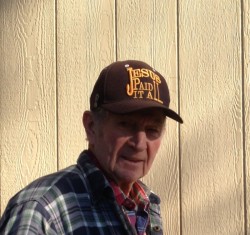 Date of Death: June 17, 2016
Date of Birth: April 17, 1938
Biography:
WOOLWICH - After a long struggle with COPD and heart disease Charles "Charlie" Earl Mesplay went to be with the Lord on June 17th, 2016. His family was by his side. He was kind, generous, extremely loving, proud, loyal, and could put a smile on anyones face. His heart was huge and he worried about others even when he was having difficult days. When he had to use oxygen 24/7 he wanted to help someone else and carried a sign that said "I Used to Smoke" on his oxygen tank.
He was born April 17, 1938 in St. Louis, Missouri and his family moved to Rolla, Missouri in 1945 where he remained until 1955 when he joined the Navy. While in the Navy he came to the Brunswick Naval Air Station. From that moment on his heart was in two states – Maine and Missouri.
He had an incredible work ethic and ran his business, Mesplay Heating, for many years. He semi-retired after turning the business over to his son Todd. It was many years later he fully retired.
He was involved in many activities during his time in Maine. He loved nature and the outdoors and enjoyed hunting, fishing and snowmobiling with his sons, brothers and friends. A few days before he left this earth he had his fishing pole and gear together to fish on his beloved shoreline on the Kennebec River. He played baseball and softball for many years and "retired" from softball in his 50's. He bowled on the Fisherman's Friday night league for many years. During all the years playing ball and bowling he developed many lifelong friendships.
After giving his life to the Lord he "ministered" through his music. He loved hymn sings, singing at nursing homes, singing in church or have a jam session in his living room with his wife, brothers-in-law and family visiting from Missouri. His guitar playing and singing was a beautiful gift that he shared with so many.
He was patriotic, proud to be an American and loved his country. He enjoyed talking politics and enjoyed friendly debates. He looked forward to having coffee with the "We Remember committee" during the week. Charlie and many of these special people were instrumental in the Memorial Day "We Remember" ceremonies honoring Armed Services who lost their lives in American War in Afghanistan that began after 9/11.
There wasn't a young child or dog that he didn't like. Most recently his grandson Hunter, granddaughter Brianna and grand-dogs Tasha and Coal brought joy and laughter to Charlie.
He is pre-deceased by his parents, his brother Paul and his son Bret. Paul, Bret and Charlie are surely fishing together as well as playing softball.
He is survived by his loving wife Mabel, daughter Julie, son Todd (Jo), his precious grandson Hunter, sister Ruth (her children Mike and Cindy), brother David (Brenda) and their children Lori and Mark, sister-in-law Lena (her children Dennis and Diane), his extended family of son James Jr. and his children Josh, Larry, and Julie, son Steven (Cindy) and their son Michael, Renee (Bobby) and their daughter Brianna who had a special place in his heart, Brothers-in-Law Jack (Cheryl) and Ron (Nancy), Grand-dogs Tasha and Coal that he adored, ex-wife and friend Marilyn, special friends Donnie and Madelyn Freeman, the coffee gang, and so many others.
The family would like to thank the staff at CHANS Hospice, especially Amanda, Holly, and Karen, and Dr. Keaney.
Upon his request there will be no services at this time.