« Obituaries | Robert A. Merrill
Robert A. Merrill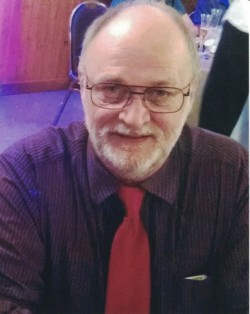 Date of Death: December 17, 2022
Date of Birth: September 16, 1950
Biography:
Robert "Bob" A. Merrill, 72, of Turner ME passed away peacefully on Dec. 17th, 2022 at St. Mary's Hospital after a battle with cancer. He was born on Sept. 16th, 1950 in Belfast, ME to father Leroy Elmo Merrill III and mother Sarah Elizabeth Knowlton.
He was employed by HE Callahan for many years, and Maine Poly before becoming a self employed painter called Paige Painting. His favorite pastime was watching NASCAR, especially his favorite drivers the Earnhardts. He also enjoyed fishing.
Robert is survived by his wife Doris Merrill; 2 sons Robert Merrill II and wife Sherry of Myrtle Beach SC, and Paul Lauze of Auburn, ME; a daughter Katie Tripp of NH; a step son James Toothaker; brothers Gene Merrill, Michael Burbeck, Philip Clark, and Edwin Clark; sisters Linda Short, Deborah Luna, Rhonda Freve; and many nephews, nieces, grandchildren and great grandchildren; and his ex-wife Aggie Wilson.
He was predeceased by both parents; his daughter Julieann Merrill; a step son Ryan Toothaker; sister Marilyn Leathers; brothers Ronnie Clark, Leroy Merrill, Lloyd "Buddy" Clark, and Peter Schoen.
There will be no services. Burial will be held privately at a later date.