« Obituaries | Bruce Merrill
Bruce Merrill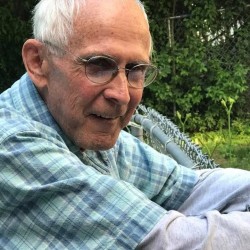 Date of Death: September 29, 2018
Date of Birth: October 22, 1943
Biography:
BRUNSWICK - Bruce Merrill, 74, of Brunswick passed away Sept 29, 2018 at home with his family at his side. Born in Bath, ME on Oct 22, 1943 to Dorothy Liljeberg and Irving Merrill.
He graduated from Morse High School in 1961. He attended the University of Southern Maine.
Bruce enjoyed life to the fullest, loved people and touched everyone's soul who he met. His hobbies included crafting various items, such as lighthouse table lamps using old power line insulators and spools used in woolen mills, building and restoring outbuildings, and playing basketball with family and coworkers. He was an avid Celtics fan. He enjoyed gardening, cutting firewood, gathering sap for Maple syrup with his grandchildren and walking in nature identifying edible plants. The biggest lesson he has shared with his family is that you are never too old to better yourself by learning new things. For many years he also enjoyed activities such as camping, fishing, sailing, weather journaling, Bean suppers and the flea market circuit.
He worked at The Portland Company, Rigby Machinery, and retiring from Howell labs in Bridgton.
He married Jeanne (Vallaincourt) Merrill in January 21, 1967 and lived in Windham for 43 years.
He was predeceased by his parents, grandmother, Josephine Nadeau, Uncle Raymond & Aunt Sylvia Nadeau of Bath.
Survived by his wife Jeanne Merrill; sister, Patricia DeGeorge and her husband Tom DeGeorge of Colorado Springs, CO; son, Eric Merrill and his wife Kimberlee, their two children Nathaniel and Adrianna Merrill of Naples; and son, Scott Merrill and his fiancé Kate Walsh and her two children Clancy & Owen Walsh of Yarmouth. Later in life Bruce connected with additional biological siblings on his birth father's side; Peter Ellstrom (predeceased), Bob Ellstrom, Jane Mazzaferro and Susan Gates of Fitchburg, MA.
A Celebration of Life will be held on Saturday October 13, 2018 from 1-4pm at the Brunswick Hotel, 4 Noble Street Brunswick, Maine.