« Obituaries | Ellen Smith Memory
Ellen Smith Memory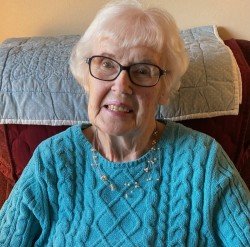 Date of Death: October 19, 2022
Date of Birth: September 26, 1929
Biography:
Ellen Smith Memory
1929 – 2022
Topsham - Ellen Smith Memory, 93, passed away peacefully on October 19, 2022.   Ellen was born on September 26, 1929, in Plainfield, New Jersey.  She was the daughter of Carl and Helen (Boyd) Colberg.
Before starting her family, she worked at the Firestone Library at Princeton University. Ellen was always an active volunteer dedicating her time in New Jersey to the Neshanic Reformed Church, the Garden Club, and the board of the Carrier Foundation. Later in Maine she was an active member of the Congregational Church of Boothbay Harbor. She was most proud of her work for St. Andrews Hospital where she was president of the Auxiliary, served on the hospital's board, and helped coordinate hospital volunteers, accumulating over 4,000 hours of service.
Gardening and floral arranging, cooking and entertaining for friends and family brought her great joy. But as Ellen would always say, the most important thing to her was family.  She felt most fortunate to have married two wonderful husbands and have her life full of special times with her ever growing family.
In 1950 Ellen married Elliott Smith. They had two children and shared over 30 happy years together mostly in Belle Mead, New Jersey and later in Maine.  A few years after Elliott's sudden passing, Ellen met Robert Memory at their church in Boothbay Harbor.  Bob and Ellen began a courtship, soon married, and shared more than 20 wonderful years together.  With their union, Ellen's family grew again, and she relished each- and- every opportunity to gather everyone around their large dining room table for a lovingly prepared meal.
She was predeceased by her parents, her husbands, Elliott and Bob, her sister and brother-in-law Betsy and George Parcell, and sister-in-law Vera Smith.
Ellen is survived by four children - daughter Kathy Smith and her husband James Peavey of Georgetown, son Tom Smith of Lexington, VA, and Bob's daughters Katherine (Memory) Thomson and husband Ronald of Hampden, MA and Boothbay Harbor, and Susan Memory of Portland; her seven grandchildren - Mel Christensen Fletcher (Caleb), Abbey Smith (Lake), Brad Smith (Becky), Keira Riccioni (Joe), Scott Thomson (Jennifer), Allison Thomson, and Daniel Memory; and her much loved 8 great grandchildren– Aurora, Joey, Eva, Bella, Samuel, Lillian, Hannah, and Ian. She also leaves her brother-in law Harry Smith, and nieces and nephews Beth Parcell, Cyndi Coury, Randy Smith, and David Parcell.
In lieu of flowers please consider a donation to CHANS Home Health & Hospice, 60 Baribeau Drive, Brunswick, ME 04011, whose staff provided loving care for Ellen.  Or just enjoy some time in your garden, sitting by the water, or going out for an ice cream, all things she loved.
At her request there will not be a service at this time. A family gathering will be held in the spring.
Arrangements are in the care of Funeral Alternatives, 46 bath Rd. Brunswick. Condolences may be shared at FuneralAlternatives.net