« Obituaries | Catherine B. Mellen
Catherine B. Mellen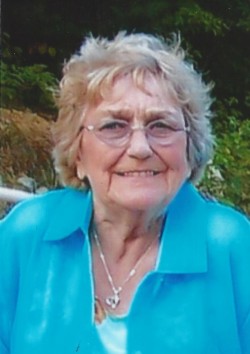 Date of Death: October 27, 2013
Date of Birth: January 24, 1934
Biography:
Catherine B. Mellen, 79, of Leeds, died on Oct. 27th, 2013 at the Hospice House in Auburn.
She was born on Jan. 24th, 1934 in Prince Edward Island Canada, the daughter of Aeneas and Sadie (MacIntyre) MacDonald.
Catherine was a member of the Saint Francis Xavier Parish in Winthrop, Me.
She enjoyed traveling to P.E.I. where she grew up, and to visit family. She also enjoyed playing bingo, having lunch with her friends, and was an avid Red Sox fan. Catherine especially enjoyed spending time with her family.
She was a devoted caregiver, homemaker, and housewife.
Catherine was predeceased by her parents, and five brothers Cecil, Ray, Peter, Merlin, and George MacDonald.
She is survived by her husband Robert S. Mellen; two brothers Gerard and his wife Mary Ann MacDonald of PEI, Mickey and his wife Gail MacDonald of Nova Scotia; three sisters Lucy Monk and Lilian Duffy of Ontario, and Mary Gill of PEI; sons Robert and wife Lori of Monmouth, Steve and his wife Roberta of S. Paris, Scott and his wife Rose of Lewiston, and Danial and his wife Stephanie of Leeds; daughter Cindy and her husband Warren Jipson of Leeds; and four grandkids, Kelsey, Kennedi, Jacob, and Nicholas Mellen.
A memorial service will be held for Catherine at the Saint Francis Xavier Parish, 20 Lake St. Winthrop, Maine on Thursday, Oct. 31st, 2013 at 10:00am. A graveside service will follow at Leeds Plains Cemetery on the Plains Rd. in Leeds. In lieu of flowers, donations may be made to RCAM in Leeds, 81 Church Hill Rd. Leeds, Maine 04263.
Condolences may be expressed at Funeralalternatives.net