« Obituaries | Eleanor J. McQuaid
Eleanor J. McQuaid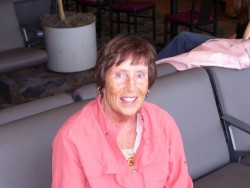 Date of Death: October 22, 2015
Date of Birth: September 1, 1934
Biography:
HARPSWELL – Eleanor J. McQuaid, born in Frankfort, ME on September 1, 1934, died peacefully at Bodwell House, Brunswick, ME at 2:46am on October 22, 2015. Her son David and his wife Marie were with her when she passed.

Her father was a woodsman and her mother a hard working homemaker. Her father passed away early in her life and her mother remarried a second man, Bampa Eliakis, who was a veteran and professional cook. She has two brothers, Tino and Mark, from this joyful union.

The middle of three children, she is survived by an older sister, Jeanette Hayward of Waterville, and a younger sister, Marlene (Tommy) Barnett of Sydney, ME.
Eleanor, often known as "Ellie," was to marry Bob Rollins, a veteran, who fathered six children with her. Living today is the oldest, Bob Jr, Tim, David, Dean, and Danny. Her youngest son, Billy, died at the age of 18 months.

She remarried to David McQuaid, a retired Navy Veteran, Firefighter, EMT, and USPS worker, who provided a lot of love, healing, and compassion. They lived in Freeport, ME until his passing from cancer. They did a lot of fly fishing, hunting, and off road stuff that you can do together up to camp. His passing was another major growth period for her. Finally she met her last partner, David Baiss, who she was happily with in Harpswell, ME for the last 15 plus years of her life.

Ellie was kind, compassionate, caring, and very giving and remained very positive up until the end of her life. She was a loving mother, mentor, and friend to many. She got sober in April 1976 and remained that way for the rest of her life, humbly, almost 40 years.
She will be missed by many and her good deeds will continue to flower as the plants she so lovingly tended.

Her bedside wishes were to be interred next to her youngest son, Billy. A private graveside service will be conducted at Laurel Grove Cemetery in Woolwich, ME on Saturday 24 October 2015.

At a later date to be announced, a Celebration of Life service will be held for all her friends and family who wish to attend.

In lieu of flowers, a donation to a charity of one's choice is appreciated. Ellie liked to support local and community causes and preferred to do so anonymously.

Her favorite saying was "To thine own self be true."