« Obituaries | Margaret Daley McLeod
Margaret Daley McLeod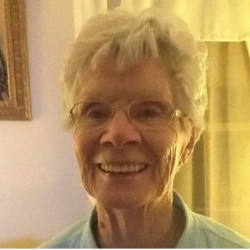 Date of Death: February 12, 2015
Date of Birth: January 23, 1923
Biography:
CUMBERLAND - Margaret Daley McLeod, 92, of Cumberland died suddenly on February 12, 2015. She was born in Philadelphia, PA on January 23, 1923 , the daughter of William and Catherine (Gallager) Daley.

Peggy lived a full and active life - to know her was to love her.

She is survived by her loving husband of 66 years , Fredrick H McLeod; her 4 children Sandra, Donald, Catherine and Victoria; her sister Theresa; 10 grandchildren; 18 great grandchildren with # 19 due in August; 5 great great grand children with #6 due in April; her extra kid Carol who was grafted onto the family tree; and numerous nieces and nephews.

Peg loved her family, shopping, football and the Boston Red Sox.
There are not enough words to tell the positive impact she had on this world.

There are no calling hours, but a memorial celebration of her life is being planned for April.

In lieu of flowers the family is requesting donations to be made to the St Jude's Children's Hospital in her name, http://www.stjude.org.

The family would also like to express thanks to all who attended to Peggy's care: the staff of Wal-Mart in Falmouth who responded so quickly, the EMS who transported her, and the staff of Maine Medical who so lovingly and professionally cared for her and her family.