« Obituaries | H. Parker McLaren
H. Parker McLaren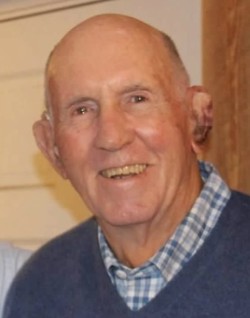 Date of Death: September 20, 2023
Date of Birth: November 4, 1932
Biography:
H. Parker McLaren, longtime resident of Merrimacport, MA and Orrs Island, ME passed away peacefully at the Maine Veteran's Home in Scarborough, ME on 9/20/2023.
McLaren, 90, served for many years as Merrimac's Town Moderator, overseeing the local government's Town Meetings with both efficiency and good humor.  He served for many years on the Pentucket Scholarship Committee and volunteered his time locally in a number of endeavors, including as a long-standing member of The Merrimac Lion's Club.
He is predeceased by his loving wife Barbara, to whom he was married for 61 years, "but", he insisted, "we fooled around for a lot longer than that."
McLaren is survived by sons Todd, and daughter-in-law Maryanne; Scott, and daughter-in-law Dianne; Lee, and daughter-in-law Yvette; and daughter Kristen, as well as several grandchildren and great grandchildren.  His son Jay also predeceased him in 1976.
Those who knew Parker enjoyed his sense of humor, his watercolor artwork, and his gratitude; and no one will be surprised to learn that he was flirting with his nurses right up until the end.
A Memorial Service and Celebration of Life is planned for some time in the future.