« Obituaries | Amanda McKnight
Amanda McKnight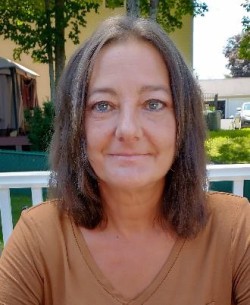 Date of Death: May 11, 2023
Date of Birth: October 3, 1974
Biography:
Amanda (Violette) McKnight, age 48, passed away unexpectedly on May 11, 2023 in Auburn, Maine. She was born in Lewiston, Maine on October 3, 1974 to parents David Violette and Patricia Cox.
She was a wife, mother, daughter, sister, and friend. She was married to her loving husband, James McKnight for 20 years. For several years Amanda and James lived in Florida then moved to Alaska before coming home to Maine last year.
A graduate of Livermore Falls High School, she also took several classes in archaeology and anthropology at the University of Maine.
Amanda loved to visit with her grandchildren, play cribbage, fish, and enjoyed spending time outdoors. She made friends easily and had a way of making people laugh.
Amanda will be remembered as a kind hearted, generous spirit, with a loving nature who lived life on her own terms. She touched the lives of so many and will be deeply missed by all who knew her.
She is survived by her husband, James; her son Brak Cox and his wife Kimberly Frost and their children Kristina, Elvin; her father David Violette and his wife Kristina; her mother Patricia Cox; her sister Danielle Redman; and many aunts, uncles, and cousins.
A funeral service will be held on May 20, 2023 at 3:30 at the First Universalist Church of Auburn, 169 Pleasant Street, Auburn, Maine.