« Obituaries | Daniel John McKeone
Daniel John McKeone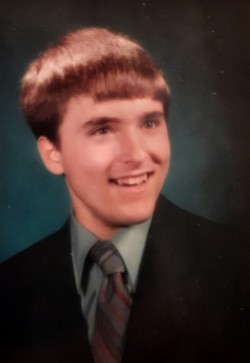 Date of Death: February 13, 2021
Date of Birth: March 12, 1971
Biography:
Daniel John McKeone died Saturday February 13 at St. Mary's Regional Medical center, following a long battle with type 1 diabetes and kidney disease. 
Daniel was born in Lewiston on March 12, 1971, to Elaine and Albert McKeone. He graduated from Lewiston High school, where he was a member of the class of 1989. 
Dan lived in the Lincoln St. area all his life, and was known as a friendly and amiable neighbor. In that neighborhood he delivered newspapers for the Sun-Journal for over 20 years. He also worked for FedEx for several years. 
Dan loved humor and laughing, and spending time with his family. He appreciated the simple things in life such as watching "Jeopardy", and listening to the radio. He particularly enjoyed Bob Seger's songs. He was also an avid news watcher, and liked discussing current events and the weather. 
Dan leaves behind a sister, Donna McKeone of Lewiston, brother, David McKeone of Auburn, and many aunts, uncles, and cousins, including his godmother, Colleen Bradbury of Lewiston. He was predeceased by his parents.
There will be an interment ceremony at St. Peter's cemetery in the spring. In lieu of flowers, his family asks that donations be made in Daniel's name to the Juvenile Diabetes Research Foundation at www.jdrf.org, and to please consider becoming an organ donor, as Dan himself was. 
Dan's family would like to extend special thanks to the staff at both Fresenius Kidney Care of Lewiston and St. Mary's d'Youville Pavilion, for their care and compassion.