« Obituaries | Justin G. McIntire
Justin G. McIntire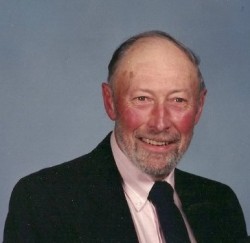 Date of Death: April 27, 2015
Date of Birth: April 6, 1928
Biography:
HARPSWELL – Justin McIntire, age 87, passed away peacefully at the home of his son, Dana McIntire and his wife Susan, on Monday, April 27th, 2015.
He was born in Norway, Maine to Glenn and Marguerite McIntire.

He graduated from Brunswick High School, and received his degree in engineering from the University of Maine in Orono in 1948.

Justin married his college sweetheart, Louise Litchfield, in 1950. He worked for Houston Construction Co. in Brunswick, Stanley Merrill Architect in Auburn, and the Pejepscot Paper Mill. When the mill was phased out he became a lobsterman, and was a member and officer of Interstate Lobster Co-op until retiring in 2006.

He enjoyed hunting, sailing, and wood carving, and was active in the boy scouts. Justin was also a Junior Warden at St. Paul's Episcopal Church in Brunswick. He was a kind gentleman who will be missed.

He was predeceased by a sister, Chloe Colby.

He is survived by his wife, Louise, of Harpswell; a daughter, Gail and husband Charlie of Westport, New Zealand; a son, Glenn and his wife Marion Doyle of Freeport; and a son, Dana and his wife Susan of Harpswell; grandchildren, Jesse, Christine, Christopher, and Anne; step granddaughters, Hayleigh and Casey Doyle; great grandchildren, Orianna and Owen; and a sister, Sarah Richard of Virginia.

A memorial service and celebration of his life will be held in June. Time, place, and date to be announced at a later time.

Memorial donations may be made in Justin's memory to the Harpswell Neck Fire and Rescue, 1430 Harpswell Neck Road, Harpswell, ME 04079.