« Obituaries | William Bill McGuire
William Bill McGuire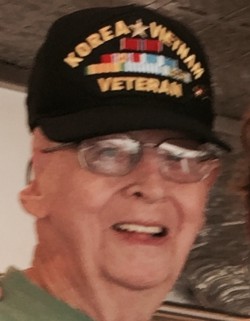 Date of Death: January 15, 2016
Date of Birth: March 11, 1934
Biography:
William (Bill) Henry McGuire
1934 - 2016
AUGUSTA - William (Bill) Henry McGuire, 81, of Augusta, died on Jan. 15, 2016, at Togus Springs Veterans Hospice surrounded by his family. He was born on March 11, 1934, the son of the late Henry and Geneva M. (Jackson) McGuire.
William was a veteran of the U.S. Army serving in Korea and Vietnam War until his retirement in 1971 with the rank of E-7, Sergeant First Class. He then went on to become a school bus driver in Gardiner and Augusta for 38 years. Bill loved to travel and spend time with his family.
William is survived by his wife, Laurette V. McGuire of Augusta; two married daughters, Sharon and husband Herby Deschenes of Augusta, and Diana and Darrell Spears of Jefferson; a son, Dr. Anthony McGuire of Long Beach, Calif.; four grandchildren, Daniel, Anthony, Marlene, and Domonic; eleven great-grandchildren; four sisters-in-law, Linda Beaulieu, Linda Lou McGuire, Linda Joyce McGuire, and Phyllis McGuire; and one brother-in-law, Ronald Gilbert of Florida. Willam was predeceased by three brothers, George, Frank, and Lee McGuire, and one sister, Joyce Badershall, all of Augusta; and one grandson, Joshua Thornton of Jefferson. Bill was the last surviving member of his family of origin.
His family would like to acknowledge the excellent care given by the Alfond Cancer Center and the Hospice at the Togus VA. Their compassion and love were obvious, and they will never be forgotten.
Burial services will be held in the spring at the Maine Veterans Cemetery followed by a celebration of his life (time and place will be announced at a later date).
In lieu of flowers, please make a contribution in his name to one of the following three organizations:
Alfond Cancer Center
in Augusta, Maine
Togus VA Hospice Unit
Augusta, Maine, or
United Service Organizations (USO)