« Obituaries | Donald E. McGlauflin
Donald E. McGlauflin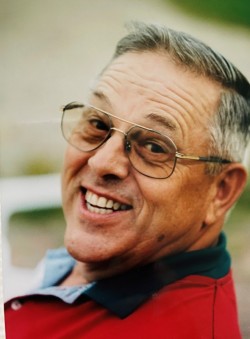 Date of Death: July 8, 2023
Date of Birth: August 24, 1940
Biography:
Donald E. McGlauflin
1940 – 2023
Poland – Heaven gained an amazing man, and his loving family (and friends) gained an angel to watch over them on July 8, 2023.
Don had so many impactful titles whether it be Husband, Dad, Papa, Brother, Uncle, Don, neighbor, masonic brother, friend or (to many) Mr. McGlauflin - as a principal, teacher, Boy Scout leader or hunter safety instructor. He lived with the motto "every day is a good day" and practiced kindness, fairness and peace to all he met. His smile, love, and dry sense of humor could be counted on to lead his most important belief, to never give up on anyone who crossed his path – which he practiced daily.
After his Glioblastoma (brain cancer) diagnosis in 2004 (with a 3–6-month life expectancy) his motto of "every day is a good day" became even more engrained in all that Donald did. He was religious and believed in the power of prayer and healing. He was baptized at first in the late 40's then again after his diagnosis - to which he attributed the guiding hand of God to his medical providers, and which led to his survival of 19 years.
He enriched the lives of all he met and was always up for that next adventure - whether it be with his love for hunting, fishing, farming, gardening or family/friends. He was a tireless educator/principal and loved helping. In the Army Reserves he was a medic and following this he touched so many lives starting out as a teacher/principal in New Gloucester for 17 years and moving to Poland Community School K-8 as their principal until he retired in 1995 (after 16 years).
Don's living family include Jane (wife of over 57 years), three children – Donna Gamache, Warren McGlauflin (wife Sara), and Susan Simpson (husband David), and 7 Grandchildren - Raymond Gamache Jr. (Wife Ariel Ngov), Andrea Gamache, Hunter McGlauflin, Annie McGlauflin, Maggie McGlauflin, Konnor Simpson and Abbie Simpson. He is also survived by his 3 older siblings – Hollis (wife Rosemary), Christine Slocum and older twin brother (by a few minutes) Ronald (wife Roxanna). There are many, many nieces and nephews.
He was predeceased by many loving family and friends including his mother Mabel, father Arthur, sister Pauline and brother-in-law Richard Slocum (husband to Christine).
The family would like to thank Clover Manor Nursing Home and Androscoggin Home Care and Hospice for their kind and compassionate care.
A remembrance of life will occur August 12, 2023, from 10am-11am visitation, 11am-12pm small service at Funeral Alternatives (25 Tampa St, Lewiston, ME 04240). A burial will occur in Round Pond Cemetery on August 13, 2023, at 1pm (209 Charlotte Rd, Charlotte, ME 04666). All are welcome to attend.
In lieu of flowers please consider donations to Donald McGlauflin scholarship fund c/o Donna Gamache 12912 Meadow Way, King George, VA 22485.