« Obituaries | June Evelyn McGinley
June Evelyn McGinley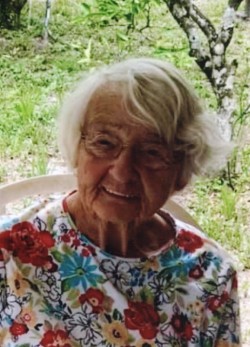 Date of Death: December 2, 2022
Date of Birth: May 10, 1933
Biography:
Pownal- It is with a heavy heart that we provide notice of the passing of June Evelyn Sylvia McGinley, our beloved wife, mother and  grandmother to four generations of children. June passed away at her daughter Sue's home in Pownal last Friday, December 2nd, 2022, at the age of 89.
 Born May 10, 1933, to Jeannette and John Tame, June was raised and attended schools in Auburn, Maine. Though she was born an only child, she learned compassion early on when Sylvia, Joanne and Sandra suddenly became more siblings than cousins, having been accepted into the family after suffering the loss of their own mom. It was a relationship she treasured and often spoke fondly of.

Her first marriage ended in the loss of her husband, William Goldrup, to illness; but resulted in the gift of her first two children, Mark and Sue. Her subsequent marriage to husband Bobby added Jim and John to the family, and ultimately in 1966 the five of them were transplanted to a small farm in North Yarmouth, Maine, through her third marriage to husband Francis.
 June not only managed to raise four children in a farm setting, but she self-taught and honed her farming skills through gardening, canning of food, berries and jams; cooking and baking, and a lifetime of knitting enough sweaters and baby clothes to keep generations of her offspring warm. And if that wasn't enough, she found her way to one of the largest state hospitals serving developmentally disabled adults and children, and while raising her own children she spent 25 years caring for the patients as a nurse's aide, full-time, and during the night shift, no less.
 It was a life that produced a strongly caring and independent woman, resulting in 19 years living on her own and maintaining her home in Poland, Maine after the death of her husband in 2002; and then in her Auburn apartment before spending her last 14 months sharing her daughter's home. An avid reader and puzzle-master, June enjoyed an active life and many excursions during these golden years with friends Nancy, Flo, Maryann, Normand, and her cousin Bev.
June was very quick to drop whatever she had going on if she was needed by her family for any reason and was a selfless source of support; opening her Poland home to family when the need arose.
 June is survived by daughter Sue and her husband Charlie, Son Mark (June was predeceased by Marks partner, Judy), Son Jim and his wife Crystal, Son John and his Wife Carolyn, 10 grandchildren, 15 great-grandchildren, and 7 great-great-grandchildren. 
She was predeceased by her husband Francis in 2002 and grand-daughter Gabriella in 2012.
 We will miss our mom, grammie, nana, great, and great-great-grammie more than words can express. 
 Services will be held at Funeral Alternatives, 25 Tampa Street, Lewiston, on Saturday, December 10th, with visitation from 10 AM until 12 noon, followed by a memorial service.
 The family has asked that in lieu of flowers, donations may be made to The American Kidney Fund, https://www.kidneyfund.org/tribute-wall. 
 Condolences may be expressed at www.funeralalternatives.net