« Obituaries | Claire Bergeron McDonald
Claire Bergeron McDonald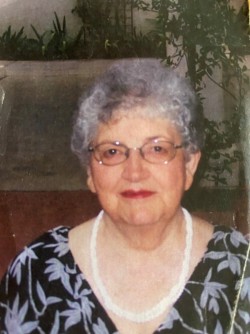 Date of Death: January 19, 2022
Date of Birth: March 6, 1932
Biography:
On January 19, 2022, Claire Bergeron McDonald, of Rangeley (formerly of New Auburn and Lewiston), passed away at the age of 89. Claire was born on March 6, 1932, to Romulus and Aline (Larin) Bergeron. She graduated from Edward Little High School. On January 5, 1957, she married the love of her life, John Patrick McDonald, Jr., and became his "luscious tomato". Together they raised their six children.
Claire spent most of her working life as a dental assistant for local dentists. She and "Pat" retired to their camp in Rangeley, where they spent many years enjoying retirement and entertaining friends and family whenever able. Claire enjoyed fishing, sketching, painting, playing harmonica, playing canasta with her dear friend Colette, scaring her children, grandchildren and any unsuspecting person. She was know to jump in Rangeley Lake, fully clothed, just to splash the grandchildren. She was incredibly proud of each and every one of us and would stop anyone who would listen to tell stories and share pictures. She would do anything for her children and was a loving, devoted mother.
Claire was predeceased by her loving husband of 51 years, in 2008; her parents, and all of her siblings, Raymond Bergeron, his wife Pauline, Francis Bergeron, his wife Lorraine, Andre Bergeron, Louis Bergeron, his wife Gloria, Gertrude Bouttenott, her husband Edward, and Rita Moreau and her husband Leo; She is survived by one son, Patrick (& Cindy) McDonald of Litchfield, 5 daughters, Anne-Marie (& Patrick) Russell of Tuscon, AZ, Aline (& Gary) Elie, of Lewiston, Celeste (& Terry) Crabtree of Hope, Stephanie (& Jim) Prue, of Peru, and Julie (& Mike) Bertrand of Minot; 21 grandchildren; 44 great grandchildren, and one sister-in-law, Jeannine Bergeron, of Lewiston, as well as many nieces and nephews. This family would like to thank her caregivers at Clover Healthcare and especially her Androscoggin Hospice nurse, Margaret for their tender loving care of our mother.
The viewing will be held at Funeral Alternatives, 25 Tampa Street, Lewiston, Wednesday, January 26, 2022, from 5:00 pm - 7:00 pm. A funeral Mass will be held on January 27, 2022, at 11:00 am, at the Basilica of St. Peter & Paul in Lewiston.