« Obituaries | John Stead McDonald
John Stead McDonald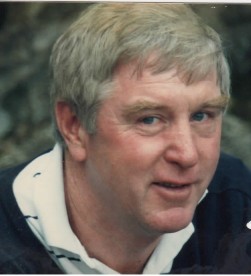 Date of Death: February 9, 2019
Date of Birth: May 8, 1933
Biography:
BRUNSWICK - John Stead McDonald of 137 McKeen Street, Brunswick, Maine passed away peacefully February 9 at Hawthorne House in Freeport, Maine after a long illness.
He was born to Catherine McKenna McDonald and James Thomas McDonald on May 8, 1933 in Providence, Rhode Island.
John attended Rogers High School in Newport, Rhode Island where he played football. He graduated from De La Salle Academy in Newport, Rhode Island.
As a member of the United States Air Force from 1951 to 1955, he was involved in the Korean conflict. John graduated from Providence College in 1959 where he enjoyed being on the golf team. He later received his MBA from New Hampshire College.
John was employed at Aetna Casualty & Surety Company in Providence and was a salesman for Kendall Company selling Johnson & Johnson products to hospitals in Maine, New Hampshire and Vermont. At Bath Iron Works, John worked in the engineering department negotiating contracts with suppliers and the United States Navy. He retired in 1995.
A past president of Brunswick Golf Club, John loved the game of golf. He was proud of his holes in ones and tournament wins. Brunswick Golf Club was a sacred place of his where he spent many happy hours. He enjoyed playing baseball, basketball and racquet ball in his younger years.
John was a member of All Saints Parish, a former member of the finance committee at St Charles Church, a coach for the Brunswick youth soccer programs and a volunteer at Mid Coast Hunger Prevention food pantry.
John will be remembered by his family for his happy disposition, as their salt of the earth, his unconditional love for them and kindness to others.
Survivors include Mary Ann Connors McDonald, his wife of 56 years, son Peter McDonald and wife Karen of Marysville, WA, son David McDonald of Lewiston, ME, daughter Bethany Roma and husband Mark of Portland, ME as well as son Paul McDonald and wife Melanie of Chandler, AZ. He is also survived by grandchildren Mary Roma of Jupiter, FL, and Miles and Margaret Roma of Portland, ME, and Jonathan, Cameron and Amanda McDonald of Chandler, AZ as well as a brother James McDonald and wife Lucille of North Smithfield, RI, sister Kathleen McDonald of Jamestown, RI and numerous nieces and nephews.
The family would like to thank Sky-Hy Adult Day Care Center for welcoming John into their friendly family and Hawthorne House staff for their skilled tender care, attention and respect for John.
John's life will be celebrated at a later date with a family gathering.
In lieu of flowers, memorial contributions may be made in his name to Food For The Poor, 6401 Lyons Road, Coconut Creek, FL 33073