« Obituaries | John L. McCurdy
John L. McCurdy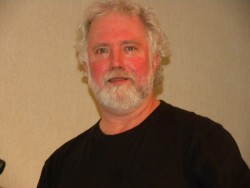 Date of Death: December 21, 2011
Date of Birth: January 25, 1955
Biography:
Readfield-   On Wednesday the 21st day of December John L. McCurdy passed away peacefully at 4:20 AM at the age of 56.  He was surrounded by loved ones at his home in Readfield.   The cause of death was colon cancer. 
  John was born in Augusta, Maine on January 25th, 1955.  He was the son of George D. McCurdy (who predeceased John) and Edna (Woodward) McCurdy, both of Augusta.
  John was a beautiful spirit who touched many people very deeply throughout his life.  He was a musical genius and started playing bass guitar at a very young age.  He played in several bands including Biggy Rat, The Rockit Band, Bait the Hook (where he met the love of his life and future wife), and the School Street Band just to name a few.  His band mates were always privileged to play with such a talented and humble musician.
   John was not only a talented musician but was a multitalented man.  He built and or remodeled/refurbished much of his home in Readfield.  He was a great painter, having worked often over the years as an interior/exterior painter.  He and his wife Cindy started a small painting company in 2003 and worked together doing painting and wallpapering.  John was able to do plumbing, electrical, carpentry and almost anything else that needed to be done around the home.  John's most recent place of employment was with Senior Spec Construction.  He sincerely enjoyed the work he did for them and truly found a home among the owners and his co workers there.  He was especially close to Dave and Carolyn who loved him dearly and blessed him with much love, care and generosity both during his time of employment and afterwards in his time of need.
   While raising his children he worked for Health Reach as a case manager, one of the many places where he was able to touch hearts and change lives.  His kids loved spending time with John – he was a very fun Dad and staying with him in Readfield was their sanctuary.
  One of the greatest adventures of his young life was driving a bus across the country many times over the course of two years during the 1970's.  These were sort of bus tours for the free spirited.   John was without a doubt a free spirit.  On these trips he was able to see much of the country including the Grand Canyon and San Francisco.   He loved to be in nature and discover new things.
  He and his wife Cindy are soul mates and have an amazing connection.  They spent many many beautiful and joyful times together:  hiking, going to art museums and the symphony, exploring natural wonders, camping, rowing in their boat on many of the beautiful lakes and ponds in central Maine, laughing, cooking, gardening, and learning about the world together. They particularly loved Popham Beach, Thomas Point Beach and the Boston Museum of Fine Arts.  They also loved playing and making music together.  But most of all they just enjoyed being home, alone, together, reveling in each other.
    John loved plants, he loved to cook, and he loved helping people.  He loved music (Bela Fleck, Pat Metheny, and Eva Cassidy were some of his favorites, and the harmonies of Take 6 could bring a tear to his eye).  John was a child of nature, loving art, science and all aspects of the natural word.  He was a brilliant and curious man who made people feel good just by being near them. John was fascinated with airplanes and flight, sometimes just sitting at an airport in his truck watching jets take off and land.  Being a pilot may have been in his blood had his life taken a different turn along the way.  John was also hilariously funny with an irreverent sense of humor, dry and so very clever.  John was a gentle and kind man, a lifelong democrat and avid supporter of MPBN and NPR.  He loved animals and one of his favorite sayings was "I do my hunting at the grocery store." He was calm and patient.  He loves his three beautiful, wonderful children, each of whom he found to be so special and unique in their very individual ways. They made him immensely proud, especially in recent years and with them by his side to comfort him through his last few months on this earth.  John is deeply devoted and overwhelmingly in love with his companion of ten years, Cindy.
   John is survived by his beloved wife Cindy Allison, his daughter Amanda Malay of Portland, his son John Benjamin McCurdy, also of Portland and his son Luke McCurdy of Virginia, his sister Linda LaRochelle of Augusta, Maine, his sister Karen Cadwell of Readfield and her partner Bill Paige of Acton, Massachusetts, a sister Kathleen Lunt, his mother Edna both of Augusta and several nieces and nephews.  He also leaves behind a precious group of friends who love him very, very much and will miss him horribly.
  John and Cindy and his family want to thank all of our friends, family, Health Reach Hospice, Inland Hospital, acquaintances and even strangers who were there for us in so many ways through this terribly difficult time.  Thank you all. We are very grateful.  At John's request there will be no funeral, but there will be a memorial to John, to be announced.   Donations may be made to the Kennebec Savings Bank in care of John McCurdy and the John L. McCurdy Fund, P.O. Box 516, Readfield, Maine 04355.