« Obituaries | Frank H. McConnell
Frank H. McConnell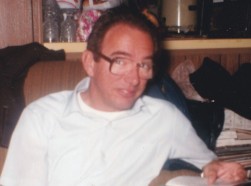 Date of Death: June 12, 2014
Date of Birth: December 14, 1936
Biography:
Frank H. McConnell, 77, of Poland, passed away on June 12th, 2014 in his home following a long illness with his wife by his side.
He was born in Hartland, Maine on Dec. 14th, 1936 to parents Howard and Esther (Griffith) McConnell.
Frank graduated from the Maine Central Institute in Pittsfield, Maine in 1955. He enlisted in the Navy and served his country for 4 years as a Fire Control Tech. Following his Honorable Discharge in 1959, Frank attended, and graduated from the University of Maine in 1965. He later went to work for IBM in Cambridge, Mass. He worked in the electronics field all of his adult life until his retirement in 2003 because of illness.
On October 21st, 1967 he married Reta J. Wiers.
He is survived by his wife Reta of 47 years; their son Kip and his wife Velma of Auburn, Maine; two grandsons, Petty Officer 3rd Class Aaron McConnell of Norfolk, VA, and Matt McConnell of Auburn, Maine; sister Anita Whitley of Pittsfield, Maine; 2 brothers, James A. McConnell and his wife Deanna of Ayer, MA and Scott A. McConnell and his wife Marsha of Etna, Maine; and many nieces and nephews.
Frank was predeceased by his parents, and one brother.
A memorial visitation will be held for Frank at Funeral Alternatives, 25 Tampa St., Lewiston Maine on Wednesday, June 18th, 2014 from 9am to 10 am, with a memorial service to follow immediately. Interment will be at Pine Grove Cemetery on Rte. 152 in Hartland Maine following services. In lieu of flowers, donations may be made to the Maine Parkinson's Society, 359 Perry Rd., Bangor Maine 04401, or to Androscoggin Homecare and Hospice, 15 Strawberry Ave. Lewiston, Me 04240.