« Obituaries | Laurette Laverdiere McCobb
Laurette Laverdiere McCobb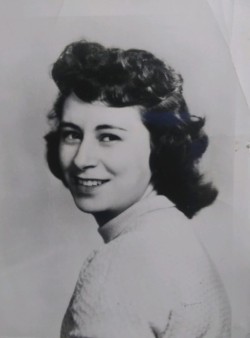 Date of Death: November 17, 2022
Date of Birth: March 10, 1931
Biography:
Mrs. Laurette (Laverdiere) McCobb passed away, surrounded by family, on Thursday, November 17, 2022, at Midcoast Hospital, Brunswick, Maine.
Laurette was born to Laetitia (LaPointe) Laverdiere and Joseph Adjutor Laverdiere on March 10, 1931, in Livermore Falls, Maine. She was the third child amongst seven beloved brothers. Laurette told many stories of her childhood in a close-knit French-Canadian family, school friends, neighbors and extended family in Berlin, New Hampshire, and Quebec. Laurette graduated from Livermore Falls High School where she studied business skills. She spoke of joyful times with close women friends in her twenties, including trips to the roller rink at Bear Pond in North Turner. There, she met her future husband Donald Stetson McCobb to whom she was married until he died in June 2000. The McCobb family camp was one place where Laurette was very much loved by the entire McCobb family and where she enjoyed time with Nana and Grampy, sisters and brothers-in-law and all her beloved McCobb/Havey/Schmidt nieces and nephews.

Laurette used her skills, over the years, as a bank employee, an office assistant in the Bucksport school administrative office, and as assistant court clerk in Bath, ME.
Laurette's obvious passion was her love of family and friends. She and Don together were the best of parents as they both thoroughly enjoyed children, their own children, grandchildren, nieces, and nephews. Laurette continued to be a loving support to her adult children and grandchildren all through her life.
Laurette was the kindest of people, inclusive of all, never quick to judge, always there to listen, a defender of the vulnerable, a good hearted, quick to laugh, honest, simplicity loving Mainer.
Later in life, Laurette enjoyed the experience of travelling with Don to Italy and to various locations in the US to visit her adult, children and grandchildren who called her Memere. Don and Laurette took numerous vacations in Canada as they loved camping. In the 90's, Laurette and Don bought an RV to facilitate spending more time with grandchildren and also to enjoy camping trips with fellow retirees.
Laurette adored her home and neighbors in her green meadow in Woolwich. She tracked the phoebe birds who would sometimes look in at her from her bedroom window. Laurette followed politics, enjoyed reading, watching Jeopardy with family, and playing board games until a few days before she took ill. "Memere"/"Mom" died with a reputation for being a natural and beloved mother, grandmother, and best of friends. She always expressed immense gratitude for her sisters-in-law, told us about their families, and her great love for family on her husband's side as well as her love for longtime friends such as Celine Paradis.
Laurette is predeceased by her husband Donald Stetson McCobb, her parents Laetitia (LaPointe) and Joseph Adjutor Laverdiere, her brothers Raymond, Norman, Wilfred (FoFo), Joseph (Pete), Roger, Robert (Bob), and Maurice (Mo) Laverdiere, two beloved nieces Cindy Lee Laverdiere and Carmen Laverdiere, her in-laws John Lombard McCobb and Gladys (Proctor) McCobb, sisters-in-law Marjorie (McCobb) Schmidt and Mary (McCobb) Tursi, brothers-in-law Frederick Schmidt and Fran Tursi, and nephew Fredrick Schmidt, Jr.
Laurette is survived by her sons James and David McCobb, daughter Donna (McCobb) Bann, daughters-in-law Alicia Daniel, son-in-law David V. Bann, grandchildren Natane A. Bann, Alessia Cervesi McCobb, William S. Bann, Camille A. McCobb, and Emma McCobb, her loving brother Norman Laverdiere, sisters-in-law Hariette Laverdiere, Carol Laverdiere, Leona Laverdiere, Marie Laverdiere, Patty Laverdiere, Gail Laverdiere and Fay Ann Laverdiere, and many beloved nieces, nephews and family friends.
Laurette was thankful for all the beautiful people who shared her life. The family will hold a ceremony of remembrance and celebration of life at the Brunswick United Methodist Church, 320 Church Rd., Brunswick, on Sunday, Dec. 4 at 2:00 p.m.
A place that could be listed as a place for donations in lieu of flowers would be the natural resources council of  Maine www.nrcm.org or to Livermore Public schools at www.livermoreschools.org/domain/789.