« Obituaries | Janet M. McClintock
Janet M. McClintock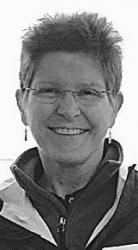 Date of Death: September 28, 2015
Date of Birth: July 27, 1957
Biography:
HARPSWELL — Janet Marynik McClintock, of Harpswell, Maine, died on Sept. 28, 2015, with her wife Merkle at her side. Jan was known for her infinite love and commitment to her family. She felt a deep connection to the outdoors, where she found her refuge. She will be fondly remembered and missed by all who knew her.
Jan was born on July 27, 1957, in Millersburg, Ohio, the daughter of Annemarie Heckman and Ralph McClintock.
After graduating from Oberlin College and American University Washington College of Law, she worked her entire career as a public attorney, first with the U.S. Department of Justice in Washington, D.C. and then with the Maine Office of Attorney General. She was proud of the work she did protecting the water, land and wildlife of her beloved state of Maine. She enjoyed the admiration and respect of her many colleagues.
She met her great love Merkle Muller in 1998. Soon they joined forces to raise a blended family of four children. They were joyfully married in 2013.
Jan is survived by her wife Merkle Muller of Harpswell, Maine, and her children Cody McClintock Perkins and wife Sarah Hopkins of Gaithersburg, Maryland, Sean McClintock Perkins of New York City, Sarah Dennison of Burlington, Vermont, and Joshua Dennison of Cambridge, Massachusetts.
She is also survived by her parents Annemarie and Bob Heckman and Ralph McClintock of Wooster, Ohio, her brother Michael McClintock and wife Robyn of Wooster, Ohio, her sisters Claudia McClintock of Grand Junction, Colorado, and Debora Summers of Anchorage, Alaska, and numerous wonderful nieces and nephews.
Surviving also are the closest members of Jan's southern family, Joe and Terese Muller of Jacksonville, Florida, and Jim and Leigh Muller of Tallahassee, Florida.
A memorial service celebrating Jan's life will be held at 4 p.m. on Saturday, Oct. 3, 2015, at the Unitarian Universalist Church of Brunswick, One Middle St., Brunswick, Maine, with the Rev. Brad Mitchell officiating.
Memorial contributions may be made to one of the following organizations: Harpswell Heritage Land Trust (hhltmaine.org) land preservation; Equality Maine (equalitymaine.org) LGBT advocacy and education; Campaign for Justice (campaignforjustice.org) legal assistance to lowincome families.