« Obituaries | John P. McAuliffe
John P. McAuliffe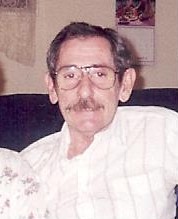 Date of Death: January 7, 2012
Date of Birth: March 18, 1941
Biography:
John P. McAuliffe, 70, of Lewiston, passed away on January 7th, 2012 at St. Mary's Hospital.
He was born on March 18th, 1941 in New Bedford, MA the son of Elmo and Edith (Clegg) McAuliffe.
John attended New Bedford schools and after graduation he proudly served his country in the U.S. Navy.
He is a former Lewiston Police officer, then worked at B.I.W. as head of security, after that he then worked for Saco Defense.
John was married to Charlene McAuliffe for 40 years and she predeceased him in 2008.
He enjoyed reading, spending time on the computer, but he especially enjoyed Sunday dinners with his family.
John is survived by daughters Donna Richards and her husband Neal, Cindy Obie, Kathy Madore and huband Vic, Kelli Madore and husband Joseph, Shelly McAuliffe; nine grandchildren; and brother Kenneth McAuliffe. He was predeceased by his parents.
There will not be any services.