« Obituaries | Lori L. McAllister
Lori L. McAllister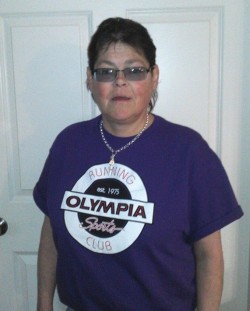 Date of Death: September 7, 2014
Date of Birth: August 10, 1966
Biography:
Litchfield- Lori L. McAllister, 48, of Kennedy Ln. in Litchfield, passed away on Sunday September 07, 2014 in Lewiston.
Lori was born in Lewiston on August 10, 1966, the daughter of Leforest and Sharon (Polley) McAllister.  In her early years, Lori worked at John F. Murphy Homes and enjoyed the people she worked with and was very good at what she did.  She was very social and loved to dance and listen to music.  She greatly enjoyed spending time with her friends.
Lori was predeceased by her father; a sister Patty Leavitt; and her grandparents, John and Gwenyth Polley.
She is survived by her parents that raised her, Lawrence and Bernita Hall of Hollis Center, ME; her biological mother, Cher Gagnon; her stepdad Charles of Van Buren, ME; her many brothers and sisters, Larry Hall and wife Tammy of Lewiston, Lisa Gowell and husband Larry of Litchfield, Glenn Hall and wife Kelly of Litchfield, Todd Hall of Lewiston, Tasha Wright and husband Vance of Brunswick, Gene Munsey of Lewiston, Gheri Morin and husband John of Van Buren, Deanna Ouellette of Van Buren, Amy Divine and husband Phillip of Van Buren, Steve Gagnon and wife Tommie of Van Buren, Tina Gardner and husband Tom of Monmouth, and Mike Gagnon of Van Buren; and many nieces and nephews.
Friends and family are welcome to attend visiting hours from 4pm to 7pm on Friday, Sept. 12th, 2014 at Funeral Alternatives, 25 Tampa St. Lewiston Maine. Visiting hours will be followed immediately by a time for friends and family to speak, and share memories.  Burial services will be held privately at a later date.