« Obituaries | Josephine "Jo" McAllister
Josephine "Jo" McAllister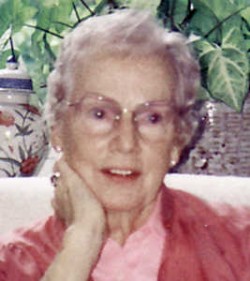 Date of Death: January 8, 2012
Date of Birth: September 18, 1943
Biography:
AUBURN — "Jo" McAllister, 90, of Auburn, passed away Sunday, Jan. 8, at home with family at her side.
She was born March 2, 1921, in Auburn, the daughter of James Martin Field and Edelle Hatch. She graduated from Edward Little High School in 1939. She married Bernard McAllister of Auburn on Sept. 18, 1943, in Greeneville, Miss.
She lived for many years in Rangeley, where she raised her family and helped with her husband's business. She moved back to Auburn in 1970.
She is survived by her son, Tom and his wife, Evelyn McAllister, of Rangeley; two daughters, Joanne and her husband, Carl Eastwood, of Milford, Ohio, and Betty Ann McAllister of Auburn; she has one granddaughter, Megan Eastwood Jesse of Batavia, Ohio; and two great-grandchildren, Katelyn Elizabeth and Tyler Scott of Batavia, Ohio.
She was predeceased by her husband, Bernard McAllister in 1991; and her brother, Martin Field.
The family extends special thanks to the entire caring staff of Androscoggin Home Care and Hospice.