« Obituaries | Gerard A. Mathieu
Gerard A. Mathieu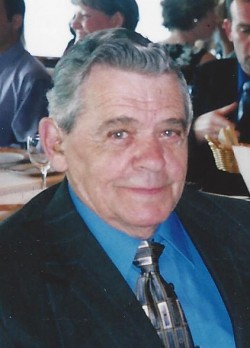 Date of Death: September 10, 2014
Date of Birth: November 8, 1931
Biography:
Gerard A. Mathieu, 82, of 56 Webber Ave in Lewiston passed away suddenly on Sept. 10th, 2014 at St. Mary's Regional Medical Center.
He was born November 8th, 1931 in Lewiston, the son of Omer and Armosa (Dubois) Mathieu.
Gerard served in the United States Army during Korean War, during which he received the Bronze Star and the Combat Infantry Badge.
He worked as a hand sewer for local shoe shops, and later worked as a self -employed building contractor.
On June 30th, 1956 he married Jacqueline Samson.
He was a member of Holy Cross Church in Lewiston, ME.
Gerard was predeceased by two brothers, Armand Mathieu and Jean Paul Mathieu; and two sisters, Cecile Mercier and Irene Gauthier.
He is survived by his wife Jacqueline;  a son, Larry Mathieu and his wife Diane; two daughters, Linda Caouette and her partner Steve Roy, and Tina Carrier and her husband Andre; six grandchildren, Jonathan Mathieu and his wife Sandra, Brianna Bourgeois and her husband Richard, Justin Caouette and his partner Krista Laverdiere, Dustin Carrier and his wife Sheena, Devin Carrier, and Mariah Carrier; great grandchildren, Richard Bourgeois Jr., Emily Caouette and Declan Carrier; three brothers, Maurice Mathieu of Fall River , MA, Marcel Mathieu of Mesa, AZ, and Rene Mathieu of Fayetteville, ME; two sisters, Carmen Goupil of Lewiston, and Pauline Bernier of Florida.
A Memorial Mass will be held on Monday Sept. 15th, 2014 at Holy Cross Church in Lewiston at 10am, and will be followed by a 12 pm Committal Service in the chapel at the Maine Veterans Cemetery on Mt. Vernon Rd. in Augusta.