« Obituaries | Irene Mathieu
Irene Mathieu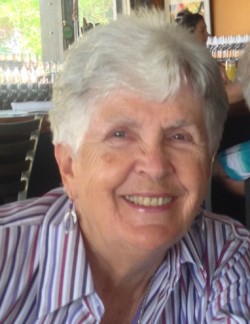 Date of Death: August 25, 2023
Date of Birth: April 15, 1934
Biography:
Irene Mathieu, age 89, of Lewiston, Maine, passed away peacefully on August 25, 2023 at the Androscoggin Hospice House surrounded by her loving family.
 Irene was born to Ida and Emile Cloutier on April 15, 1934.  She grew up in Lewiston with one sister, Florence Grenier. 
 Irene attended Holy Cross School, St. Peter's School, and St. Dom's High School where she met the man that would become her husband of 69 years, Marcel Mathieu, at a school dance.  Together they had six children – Denise D'Amboise, Ron Mathieu, Dan Mathieu, Janice Mathieu, Nancy Mathieu and Donna LaBonte; four grandchildren – Matthew D'Amboise, Sean D'Amboise, Eric Hall and Bryan Hall; one great-grandchild, Marcel D'Amboise. She also leaves behind sons/daughters-in-law – Pat D'Amboise, Tom Potter, Patti Dugan, Tra Mason, and Dan LaBonte.
 Irene lived a vibrant and adventurous life.  She worked many jobs during her lifetime, but her greatest accomplishment was that of being a mother. 
 She loved to travel the world and spend time with her family.  She also loved going to Arizona for the past 38 winters, playing golf, tennis and bowling, and engaging in social outings.  She loved exploring the country as they traveled between Maine and Arizona.
 She had a fiercely independent spirit, and her laugh was infectious.  She loved being creative and excelled in sewing, knitting, decorating, designing, and cooking, to name a few. 
 Irene's wishes were to be cremated.  A memorial service will be held at St. Peter's Cemetery Chapel, at 31 Deer Rd., Lewiston, Maine on September 15 at 11:00 A.M.
 The family extends their deepest gratitude to the entire staff at the Hospice House for their excellent care and compassion. In lieu of flowers, donations can be made to Androscoggin Hospice House, www.androscoggin.org .