« Obituaries | William Arthur Mather
William Arthur Mather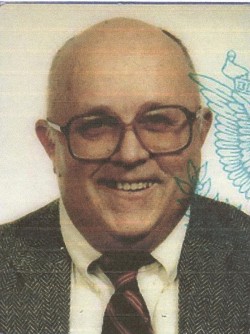 Date of Death: February 2, 2012
Date of Birth: February 11, 1929
Biography:
TOGUS- William Arthur Mather, 82, of Somerville, Maine; formerly of Scituate, Massachusetts, passed away on Thursday, February 2nd, 2012, after a brief illness.
He was born in Pawtucket, Rhode Island on February 11th, 1929 to parents John and Edith (Pickup) Mather.
William served in the U.S. Navy for several years following World War II. He graduated Boston University Law School and joined the law practice of Mulhall, Mather and Wright, where he practiced for many years in Quincy, Massachusetts before retiring to Maine.
He was a founding member of the Scituate Waterfront Club and enjoyed sailing the southern New England coast, traveling, writing poetry, and singing to his family and friends.
William was predeceased by his first wife, Jeanne A. Mather; his parents, John and Edith (Pickup) Mather; and a son, Geoffrey J. Mather.
He is survived by his wife Janet; three sons, Peter, James, and David; a daughter Elaine; and by grandchildren Richard, Sara, Daniel, and Zoe, all of whom love, and will miss him.
A private graveside memorial service will be held at a later date in Scituate, Massachusetts.