« Obituaries | Blanche Marie Martineau
Blanche Marie Martineau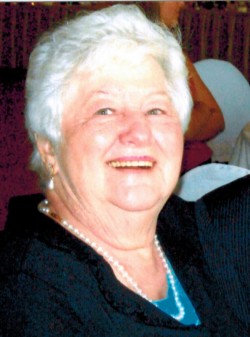 Date of Death: November 9, 2015
Date of Birth: June 15, 1946
Biography:
AUBURN — Blanche Marie Martineau, 86, of Lewiston, passed away Monday, Nov. 9 2015, after a short illness at Androscoggin Home Care-Hospice.
She was born the youngest of 16 children to Leonie and Eugene Legendre, in Milan, NH on June 16, 1929.
Blanche was married on June 15, 1946, to Normand J. Martineau. She was a homemaker and prior to her retirement in 1985 she worked at Paragon Glass, Bates Manufacturing, Arrow Hart, Billen Shoe and Bonneau's Supermarket.
She was one of the first patients in Maine to receive a TAVR cardiac procedure at age 84.
Her passions included her family, cooking and bird watching. She had a beautiful voice, loved to sing (English and French), whistle and yodel. She enjoyed gardening, crossword puzzles, and crafting. In her later years, she was fortunate to spend time traveling to Florida with her loving companion, Norman Leblanc, of Lewiston. She practiced her Catholic faith at Holy Cross Church.
Blanche is survived by her children; three daughters, Mrs. Susan Turmenne and husband, Donald of Lewiston, Mrs. Nancy Morin and husband, Barry of Lewiston, and Pauline Boilard of Lewiston; and one son, Roland Martineau and his companion, Pat Kottmann of Sabattus; four grandchildren, Belinda Pare and husband, Scott, Katherine Boilard, Michael Washburn and wife, Melissa, and Daniel Boilard Jr.; four great-grandchildren, Adam and Aaron Pare, and Tylor and Connor Washburn. She has one living sister, Rosemary Nelson of California.
She is predeceased by husband, Normand J. Martineau; daughter, Jeanne (Lavoie) Deane; and grandsons Troy Lavoie and Eric Paul Martineau.
FUNERAL NOTICE:
MARTINEAU—Blanche M., 86, of Lewiston, passed away on Monday, Nov. 9. Visiting hours will be held on Friday, Nov. 13 from 6 to 9 p.m with a memorial service taking place at 7 at Funeral Alternatives Group. A graveside service will be held on Saturday, Nov. 14 at 11 a.m. at St. Peter's Cemetery in Lewiston.
In lieu of flowers, donations can be made to Androscoggin Home Care-Hospice, 15 strawberry Ave, Lewiston, ME 04240.