« Obituaries | Susan G. "Sue" Martin
Susan G. "Sue" Martin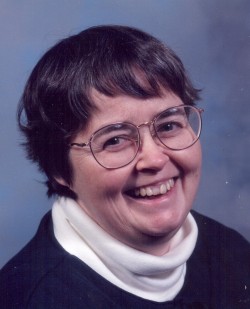 Date of Death: June 20, 2010
Date of Birth: March 28, 1950
Biography:
                                                                                                                      Obituary
                                            Susan "Sue" G. Martin

Auburn-Susan G. Martin, 60, of Hogan Rd. Lewiston went home to be with her Lord on June 20, 2010 at the home of her friends, Pastor and Mrs. Cougle of Auburn. 
She was born on March 28, 1950 in Goffstown, NH the daughter of Earl and Emma (Lanois) Martin.
At age 5 Sue and her family moved to Halifax, Massachusetts.  She attended Halifax elementary School, Silver Lake Junior and Senior High School where she excelled in English and Latin, having won an award for Latin in her senior year.  Sue also graduated from Bates College in 1972 with honors with a degree in Sociology.   
After graduation she made a decision to stay, live and work in Lewiston.  She was employed at Central Maine Medical Center where she worked for over 35 years in the radiology department.  During this period of time she became very active in her church, First Assembly of God, by offering her services as a volunteer for over 38 years.  She was involved in all facets of children's ministries, including serving as secretary and treasurer for Sunday School and children's church.
Sue wrote and co-directed several Christmas plays for the Children's programs at First Assembly of God Church.    
One of her greatest joys was anonymously  sponsoring 2 to 3 kids each year to Bible Camp, as well as making sure they had sufficient spending money for the camp store.
As a hobby Sue enjoyed reading and also had a great talent for writing and story telling. 
Sue loved the ocean and looked forward to her yearly vacation in Bar Harbor.
She was predeceased by her father Earl Martin.  Sue is survived by her mother Emma Martin, one brother John and his wife Mauryeen all of Halifax, Massachusetts, one sister Gerry Martin of Washington, D.C., two nieces Heather Martin (Sue's God child) and Tracy Martin. 
Family and friends are invited to visit on Wednesday, June 23rd at 5 pm at First Assembly of God 70 Hogan Rd. in Lewiston, a funeral service will immediately follow at 6pm at the church.  Burial will take place on Thursday, June 24th at 10am at Mt. Auburn Cemetery, Auburn.
In Sue's memory donations may be made to the First Assembly of God Church 70 Hogan Rd. Lewiston, Me 04240 or the American Cancer Society 1 Bowdoin Island Mill Topsham, Me 04086.