« Obituaries | Shirley Anne Martin
Shirley Anne Martin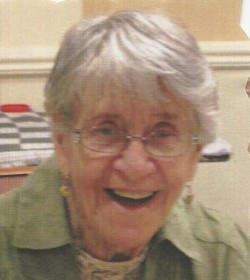 Date of Death: October 13, 2016
Date of Birth: August 14, 1929
Biography:
Westbrook, Maine – Shirley Anne Martin, 87, passed away peacefully on Thursday, October 13, 2016 at Avita of Stroudwater living there with Dementia but never forgetting to share her infectious smile with everyone she met.
Shirley was born in Portland, Maine on August 14, 1929, the daughter of the late Robert R and Marie (Legere) Towne.  She graduated from Cathedral High School and Northeast Business College.
She worked for various companies during her lifetime - the Travelers Insurance Company, Urban Renewal for the City of Portland and Westbrook College.
Shirley and her late husband, Anthony (Tony) J Martin raised their family in Portland where she was an active communicant of St. Patrick's parish. Shirley and Tony owned a cottage on Little Sebago Lake  for 20 plus years. Shirley loved her times on the lake and had many memorable get togethers with family and friends over the years. In 1992, Shirley and her husband moved to Marion Landing in Ocala, Florida. She loved her time in this community where she was a member of the Chorus and Dance Groups. Her favorite pastime however, was when she held the leading role in many of the plays performed by the Community Little Theater. She was an avid reader and movie buff. A very stylish person, Shirley always was ahead of her time. She always had her own car – Ford Mustang Coupe was one of her favorites. She was a registered Independent and very proud of it. Her very favorite  things to do were "shop for bargains"and travel. She moved back to Maine in 2013 where she was a fiesty, witty and loved Resident of Avita of Stroudwater.
Shirley was predeceased by her husband Anthony in 2010 and her bother Kenneth Towne.
She is survived by her daughters, Kathy and husband Joseph Raynes of Cumberland, ME, Karen and her husband Bill Fothergill of Phoenix, AZ, Melissa and her husband Daniel Deprez of Fox Island , WA. Five grandchildren, Tyler and her husband Jim McGinley, Joanna Raynes, Michael Fothergill, Finn and Inara Deprez and 2 great grandchildren, Ford and Bea McGinley
The family would like to thank all the caregivers at Avita of Stroudwater for the enormous love, compassion, respect, humor and selflessness during Shirley's 34 months there.  Never has so much deep and caring love ever been felt by the entire family.
A Memorial service will beheld at Riverside Cemetery in Yarmouth, Maine at a future date.
Those who wish, may make contributions in Shirley 's memory to;
Avita of Stroudwater
113 Landing Road
Westbrook, ME 04092