« Obituaries | David A. Marshall
David A. Marshall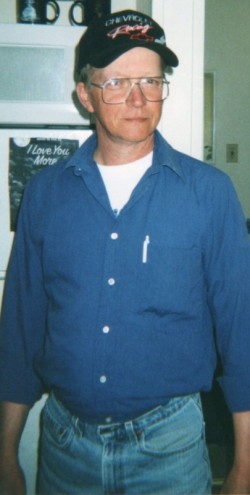 Date of Death: June 22, 2023
Date of Birth: April 16, 1947
Biography:
BATH – David "Dave" A. Marshall, 76, of Summer Street in Bath, Maine, passed away after a long illness on Thursday, June 22, 2023, at Togus VA Medical Center in Augusta. Dave will be loved and missed dearly by all that knew him.
He was born on April 16, 1947, in Attleboro, Massachusetts, to Charles and Helen (Chaffe) Marshall. He was a Veteran of the Army and Air Force, which he proudly served for six years. He worked at Bath Iron Works as a Shipfitter for twenty-six years until he retired in 2013. His nickname by co-workers was "Papa Smurf Da Da." Dave worked seasonally at L L Beans Fulfillment Center as a Packer in earlier years.
He married his soulmate Judith "Judy" Adams Marshall on May 15, 2010, and was together for ten years first so they could get it right! They said their vows at the Bath Waterfront by the Kennebec River with family and friends. Following was a reception at the Riverside Pub in Bath.
Dave had a heart of gold, a goofy laugh, an infectious smile, and unfiltered sayings. He loved to do many things: hunting, going out to eat with Judy, going to the car races at Oxford Plains Speedway (even winning the pace car with a 50/50 ticket one year), Unity Speedway and Wiscasset Speedway, meeting up with co-workers at their local hang out, spending time with his friends he thought as family, watching TV, and most of all enjoying time with Judy, his children, and their families.
He was predeceased in death by his parents, Charles and Helen (Chaffe) Marshall, and his three sister's Joyce Alexio, Paula Berube, and Wendy Martin.
He is survived by his loving wife of 13 years; Judith "Judy" Adams Marshall of Bath, his former wife; Beatrice "Jean" Marshall of Wiscasset, and his two daughters; Kerri Wilkinson Medas of Boston, MA., Kimberly James and her husband Jim of Georgetown, and his three sons; Joseph Marshall of Wiscasset, Charles Marshall and his wife Jolleen of Newcastle, John Marshall and his wife Jessica of Wiscasset, and 16 grandchildren; Kerri's children; Justin, Kyle, and Ethan; Kimberly's children; Keara, Everett, Anneliese, and Amelia; Joseph's children; Alexandra and William; Charles's children; Garrett, Justine, and Daegen; John's children; John Jr., Latisha, Olivia, and Mya; and two great-grandchildren, one step-daughter; Danielle Kennedy of Bath, three step-sons; Andrew Gowen and his wife Mandy of Suffolk, VA., Christopher Gowen and his wife Bonnie of Frankfort and Benjamin Gowen of Bath; 12 step-grandchildren, and two step-great-grandchildren and Judy's service dog, Sassy Mae Marshall, which was his favorite little companion.
Memorial Donations in his name may be made to The American Heart Association at 7272 Greenville Ave., Dallas, TX 752371 or to Togus VA Medical Center at 1 VA Center, Augusta, ME 04330.
A celebration of life will take place on July 22, 2023, at Realty Resources Property Management, 12 Windjammer Way, Bath, ME 04530, at 1:00 pm.