« Obituaries | Kenneth A. Marden
Kenneth A. Marden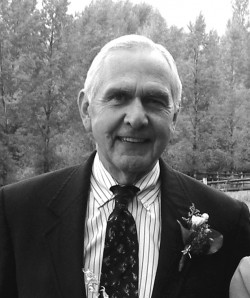 Date of Death: May 31, 2015
Date of Birth: December 12, 1928
Biography:
Kenneth Allen Marden, age 86, died peacefully at home on May 31, 2015.
Born December 12, 1928 in Tenafly, New Jersey, solely to promote the grey hair of Doris and Allen Marden, Ken was a force to be reckoned with right from the start.  From childhood shenanigans that included blowing up a feather pillow with a pistol, to teaching his little brother to read Burma Shave signs by twisting his thumb till he blurted out the words, to championing ice sculpture competitions and trouncing his opponents in heavyweight boxing at the University of Maine, it was a miracle that he survived to continue on to jumping out of airplanes as an adult.
Ken was a lifelong outdoorsman. He loved fishing (which he started at age 4 in the Adirondacks), camping, hunting, horseback riding, canoeing, skeet shooting and hiking, but his greatest passion was running his beloved German Shorthaired Pointers in field competitions. He spent decades helping other sportsmen fall in love with that breed, and was revered across the US for his knowledge and support of field trials and gun dog competitions. To his dying day he owned and doted on GSPs.
Ken married Judy Black in 1947 and spent his next years as a paratrooper in the Army. He was a Lieutenant stationed at Fort Campbell, KY, and went on to be a Captain in the Maryland National Guard. The day before breaking his back by outrunning his parachute, he was able to conceive the first of his two remarkable daughters, Priscilla. Emily followed 8 years later, thus bringing a much-needed feminine balance to his wild and adventurous life. They were unsuccessful in taming him, however.
Ken had numerous careers in his life. For many years he was Vice-President of Johnson & Johnson's Hospital Division and home tested their products. His family learned that they were all chronic carriers of staff and strep, but never had a sick day in their lives, probably because they lived side by side with all the dogs and received the same great level of home veterinary care. From J&J Ken went into his Don Draper years, working as a creative director for Lewis & Gilman in Philadelphia, and Elliot J. Axelrod in New York. He instilled the love of copywriting and slogan development in his daughter, Priscilla, and harbored many secrets of how to fake product performance in a photo shoot. (Alas, the truth of what really happened with Coke advertising has gone to the grave with Ken.)
Brave as he seemed, Ken was actually a slow learner. This was evidenced by the fact that week after week, year after year, he would ride his daughter's horse bareback  out into the boonies to run his dogs. When the dogs flushed a bird, Ken would shoot his blank pistol and be consistently bucked off and have to walk all the way home. While this helped condition him for future field trial judging incidents, it did cause his wife and daughters to shake their heads and mutter about "fixing stupid". He loved animals (mostly) and didn't blink an eye about having 27 dogs, 4 cats, a horse, dozens of quail, pheasants and chukar partridge, and a couple of well-fed rats, but he drew a loudly vocal line at the baby goat in the middle of the dining room table eating the butter for the dinner rolls. He had limits to his patience.
The crown jewels in Ken's life, however, were his involvement with the American Kennel Club, and with the Eastern German Shorthaired Pointer Club of America. He was president of AKC from 1987-90, an AKC delegate, and an advocate for canine performance events. He was awarded the AKC Lifetime Achievement Award in the Performance Events category, expanding it to include agility, lure coursing, herding and earthdog events. He loved spending time on the phone with his dog cronies, and singlehandedly supported the continuation of land-line long distance fees. Never one to mince words, Ken was happy to share his endless opinions with anyone. His willingness to mentor newcomers to the dog world garnered him countless lifelong friendships and accolades.  
Family was his rock. He loved his wife and daughters beyond all things and was a wonderful dad. He was always there to support their ideas and passions. He was proud of Emily and her abilities to nurture and support her friends and community, and relied heavily on her as his health declined. He was blessed to have her there in his last days. He also was a champion of Priscilla's work with Horse Warriors™ - helping youth, families, veterans and cancer survivors find meaning and hope in their lives. He is survived by many grieving family and friends, including his daughters Emily and Priscilla Marden; his grandsons Jesse Johnson and Alex Schechter; granddaughter-in-law Juliana Hofmann; his son-in-law Tony Panarisi; great-granddaughter Aislyn Rosa Johnson; brother Buzz Marden; nephews Bill and Brad Marden, Bill Philbrick and Sandy Black; nieces Kathy Philbrick Gates, Judith Philbrick and Laurie Blake; and his beloved friend, Alice Rigney. 
A memorial service will be held Friday, June 5, 2015, at 10:30 AM,  at his home at 183 East River Road in Whitefield, Maine, with a potluck immediately following at St. Giles Episcopal Church in Jefferson, ME.
It was Ken's wish that in lieu of flowers, donations be made to Horse Warriors™ (www.horsewarriors.com) in his name.