« Obituaries | Alvera Marcotte
Alvera Marcotte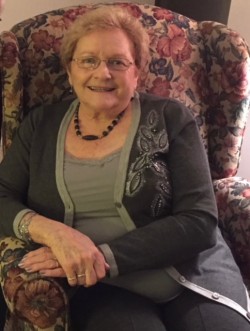 Date of Death: October 27, 2023
Date of Birth: May 30, 1935
Biography:
Lewiston- Alvera Marcotte, age 88, of Lewiston, passed away Friday morning, October 27th at the Androscoggin Hospice House in Auburn, Maine, after a brief illness.
She was born in Jay on May 30, 1935, one of four children to Antonio and Blanche (Dube) DeSanctis.  Vera was educated in Lewiston schools, graduated from Lewiston High School and remained a lifelong resident of the Lewiston-Auburn community.
On June 4, 1955, she married Raymond Paul Marcotte, of Auburn and together they settled in the Lewiston-Auburn area to raise their family.
Most of Vera's working career, early on, was as a secretary, working for Roy Brothers Trucking and Lewiston Lumber Company, before working at the DEB Shop in the Auburn Mall as a store clerk before her retirement to be a stay-at-home mom.
Among her favorite enjoyments were baking, shopping at TJ Maxx (her favorite store), craft fairs, playing golf, time at the casino, bowling 10-pin with her sister, daughter and niece, spending time taking her grandsons to their sporting events and good family times in the summer at Old Orchard Beach, as well as her husband's uncle's camp on Thompson Lake.
For many years, she and Raymond enjoyed extended winter getaways visiting her in-laws in Davie, FL, and vacationing at Madeira Beach in St. Petersburg, FL.
She had been a longtime parishioner at the former St. joseph's Church in Lewiston.
Vera was a loving, devoted and hardworking wife, mother, grandmother, great grandmother and great great grandmother who spent a lot of time with her family and friends and who will be dearly missed.  She was a devoted New England sports fan:  Red Sox, Patriots, Boston Bruins.  She would call her son Jeff to express her excitement or displeasure with the results of the game.
She leaves behind her four children Brenda Gauvin and husband Yvan of Lewiston, Jeffrey Marcotte and wife Linda, also of Lewiston, Randy Marcotte and his significant other Diane Nason of Alfred, and Pamela Welch and husband Frank of Minot; five grandchildren Jessica Dube, Heather Colopy and her husband Blake, Brandon Marcotte, Cameron Marcotte and Reagan Appiarius and her husband Owen; three great-grandchildren Hartlie Kemp, and her husband Chad Kemp, Marshall Colopy and Vera Colopy; two great great-grandchildren Karsyn and River Kemp; one brother Antonio (Tinny) DeSanctis of Auburn and many nieces and nephews.
Vera was predeceased by her husband Raymond P. Marcotte of Lewiston one sister Norma Roy and one brother Leo DeSanctis.
At this time, we would like to thank all of the staff at the Androscoggin Hospice House for their compassionate care while our mother was a resident.
In lieu of flowers, donations can be made, in Vera's honor, to the Androscoggin Hospice House https://androscoggin.org/donate/
At her prior request, there will be no funeral services at this time.  To leave a message for the family in the online guestbook, please visit www.funeralalternatives.net