« Obituaries | Ruthann Mangan
Ruthann Mangan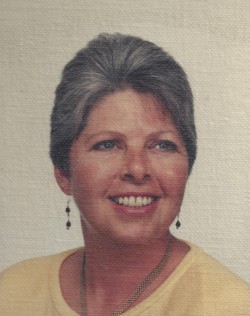 Date of Death: January 17, 2014
Date of Birth: April 17, 1940
Biography:
LEWISTON-Ruthann Munroe Gideon Mangan, 73, of Auburn, Maine passed away on January 17, 2014 at Central Maine Medical Center following a short illness.
She was born in Somerville, Massachusetts on April 17. 1940 to Beatrice E. Smith Munroe Blaney and James Clayton Munroe.
Ruthann graduated from Nashua High School in Nashua, New Hampshire in 1958. She then graduated from Mercy Hospital School of Nursing, Portland, Maine in 1961. Ruthann went on to work at several nursing facilities, two of which she was particularly fond of, Pineland Center and Augusta Mental Health Institute. She retired in 2005 at the age of 65.
Ruthann enjoyed spending time with her family including her grandchildren and her pets, cooking and baking, furniture refinishing and decorating. Her family's fondest memories include her vacuuming during television time and the time she donated her ironing to goodwill.
She was predeceased by her mother, Beatrice E. Smith Munroe Blaney; her father James Clayton Munroe; her stepfather John F. Blaney, who fathered her from the age of six; her nephew, Stephen Smith; and her uncle, Robert Smith.
Ruthann is survived by her children from her first marriage; one daughter Beth- Gideon of Sammamish, Washington; four sons, David Gideon and his wife Vickie Gould of Lewiston, Maine, Seth Gideon of Pownal, Maine, Cain Gideon and his wife Mary of Lewiston, Maine, and Saul Gideon of West Gardiner, Maine; her two daughters from her second marriage, Meghan Mangan Norman and her husband Erik Norman of Durham, Maine and Kerry Mangan of Auburn, Maine. She is also survived by her four granddaughters Haley, Olivia and Emma Gideon of Lewiston, Maine, and Kaitlin Norman of Durham, Maine; her brother Robert Munroe of Dallas, Texas; her sister Nancy Sweeton of Enfield, Connecticut; and several nieces, nephews, and cousins.
A memorial service will be held on Friday January 24,2014 at 2:00 p.m. at Funeral Alternatives, 25 Tampa Street Lewiston, Maine 04240. The family suggests that in lieu of flowers a donation in Ruthann's memory be sent to The Cleo Fund, 351 Riverside Industrial Pkwy, Portland, ME 04103. A celebration of Ruthann's life will be held at a later date in April 2014 for her extended family members.