« Obituaries | W. Grant Mallett
W. Grant Mallett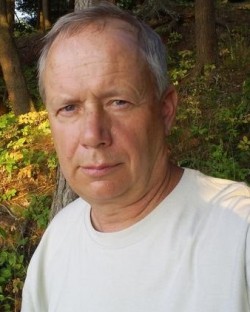 Date of Death: November 4, 2014
Date of Birth: November 26, 1949
Biography:
HARPSWELL - Grant Mallett died peacefully Tuesday evening at his home in Harpswell surrounded by family.
Born Wilbert Grant Mallett on November 26, 1949, he was the youngest of four children of Richard and Helena Mallett. He lived briefly in Falls Church, Virginia; then the family moved to Chevy Chase, Maryland, and lived there until 1968. Many of Grant's cherished memories were from this period. The family then moved to Farmington, Maine, where Grant attended the University of Maine in Farmington. Later he moved to the Portland area, where he majored in American history and graduated from the University of Southern Maine. He lived and worked briefly in Boston, Massachusetts.
He had a prodigious memory, and told wonderful stories about American history and family genealogy. At an early age, he was particularly fascinated by the Civil War, and he became an accomplished historian of it. He and his wife Kim lived and worked for several years in Gettysburg, Pennsylvania, to pursue his interest in the Civil War. He explored many battlefields in Maryland and Virginia.
He worked for many years at Bookland in South Portland. His curiosity and his story-telling ways won him a devoted following there.
For the past 11 years Grant and his wife Kim lived in Harpswell, Maine. He was passionate in his care for his pet dogs and cats. His most recent hobby was taking photos of nature near his home in Harpswell.
In late 2012 he was diagnosed with cancer. He carried on a struggle with the disease with great resolve until the end.
He leaves behind and will be greatly missed by his wife Kim Mallett of Harpswell, ME; a brother Richard Mallett of Glendale, CA; sister Anne Mallett of Farmington, ME; brother Stephen Mallett and his wife Judy of Topsham, ME; stepsons Brooks Royal of Indiana;Travis & Mark Burnham of Boothbay; grandchildren Caden Royal of Boothbay Harbor & Micaela Royal of Dresden & Emilee Royal of Ohio; nephews John Morton and his wife Kate of Boston, MA, and Miles Morton and his wife Maria of Brooklyn, NY; mother- in- law Beverly Royal of Boothbay Harbor, and many friends.
A funeral service will be held at Good Shepherd Lutheran Church in Brunswick on Monday, November 10th, at 11:00am.