« Obituaries | Fernande R. Madore
Fernande R. Madore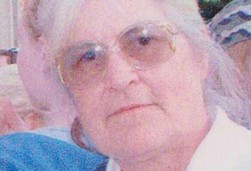 Date of Death: July 11, 2014
Date of Birth: February 6, 1946
Biography:
LEWISTON — Fernande R. Madore, 68, of Monmouth joined her husband in the presence of her Lord Jesus Christ on Friday, July 11, following a short but courageous battle with cancer.
Ferne was born on Feb. 6, 1946, in Montagne de la Croix, New Brunswick, one of eight children of Alfred and Isabelle Clavette. When she was 16, she moved to Maine with three of her sisters and worked a variety of jobs, including Hill Crest and Bates Mill in Lewiston, and area shoe shops.
While she lived in Lewiston, she met Nelson Madore, and they were married on Aug. 20, 1966. The two raised four children and a grandson.
She enjoyed photography, scrapbooking, gardening and canning. She made quilts for her grandchildren, and kept the family stocked with countless hats, pichoux and mittens.
She is survived by a daughter, Rachel Doucette and her husband, Michael, of Lewiston; three sons, Ronald Madore and his longtime companion, Laurie Burgess, Daryl Madore and his wife, Candida, all of Monmouth, and Michael Madore of Winthrop; two brothers, Oneil Clavette and his wife, Germaine, and Fernand Clavette and his wife, Gisele, all of Green River, New Brunswick; three sisters, Jeannelle Oakes and her husband, Wilbert, of Minnesota, Gaetanne Madore and her husband, Roland, of Monmouth, and Mona Dionne and her husband, Donald, of Sabattus; a stepsister, Estelle Clavette of Montreal; 10 grandchildren, Stephanye and Officer Derrick Doucette, of Lewiston, Sadiee Austin of Wales, Dakota Madore of Monmouth, and Micah, Tierzah, Keturah, Lydiah, Azariah and Josiah Madore of Monmouth; many brothers- and sisters-in-law; dozens of cousins, nieces and nephews; and her special godchildren, Shirley Beaudoin, Francine Clavette, Janet Brochu, Johnny Madore and Daniel Dionne.
She was predeceased by her husband of 47 years, Nelson Madore, on Oct. 8, 2013; a brother, Leonide Clavette; and a sister, Jeannette Caron.
The family would like to extend a heartfelt thank-you to the d'Youville and CMMC medical teams for their exceptional care of our mother in her last days.
A celebration of Fernande's life will be held at 12:30 p.m. on Sunday, July 20, at South Monmouth Baptist Church on South Monmouth Road.