« Obituaries | Everett S. MacMaster
Everett S. MacMaster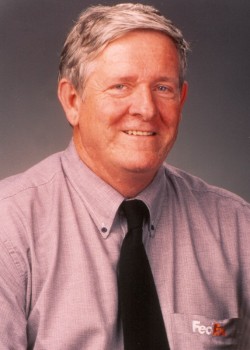 Date of Death: May 7, 2010
Date of Birth: May 6, 1941
Biography:
Everett S. Macmaster of Falmouth died peacefully May 7, 2010 at Gosnell Memorial Hospice House in Scarborough, ME.  Up until his last days he never lost his sense of humor, always had a joke ready and never gave up hope that they would find a cure for his cancer.
Everett was born in Stoneham, MA on May 6, 1941 the son of Everett S. Sr. and Winifred C. Little Macmaster.  He graduated from Stoneham High School in 1959 and attended Bentley College. 
After moving to Maine Everett met his future wife Shirley while working at the Dairy Queen at Allen's Corner owned by his mother and father.  He and Shirley designed and built their own home in Falmouth which would have been an impossible task without the help of Everett's brother Bruce.  This is where they raised their sons Scott and Shawn.
Everett's life long passion was his love of trucking and the transportation industry. He worked for small trucking companies and retired from Sanborn's Motor Express in 1986 after 20 years.  He went to work for Federal Express retiring in December of 2007 due to illness from "the best job I ever had".  During his time with Federal Express he received numerous awards including the 1998 National Truck Driving Championship.  He was the first driver from FedEx to ever win a national competition. 
Everett enjoyed judging for truck driving competitions and participating in various Truck Driving competitions to raise money for St. Jude's Children's Hospital and other charities.  This past year he was honored for his time and commitment by the Northeast Truck Drivers Charity Challenge and Convoy for Kids.  Before his illness he and his wife provided a meal once a month for the senior citizens who lived at Blackstone, his mother-in-laws community.   He collected license plates from around the country and enjoyed working around his home especially in the yard on his Kubota Tractor. 
Everett and Shirley never had grandchildren but with the birth of their niece Katie she soon stole his heart and became the grandchild they never had.  When Katie was little she could often be found with Uncle Everett riding around in the wagon of his lawn tractor. She also enjoyed going in Uncle Everett's truck where he would let her "drive" with her little feet. When Katie moved away she missed her Uncle Everett terribly, and whenever she got a chance to visit they would go on dates and have a great time together. Before they got off the phone Uncle Everett would always ask Katie who her boyfriend was, and of course she would always say that he was. Her Uncle Everett was and always will be her favorite boyfriend.
He was a member of the Maine Motor Transport Association, Maine Professional Drivers Association and the New Hampshire Professional Drivers Association.  He was also a member of the Kora Shrine Temple-Lewiston, was a 32nd Degree Mason-Hiram Masonic Lodge, the Anchorage Railroad Club, the American License Plate Collectors Association and the American Truck Historical Society. 
Everett is survived by Shirley Ann Griffin his wife of 48 years; his sons Scott E. Macmaster and wife Catherine of Gray, ME and Shawn E. Macmaster of Falmouth, ME; his brother Bruce L. Macmaster and wife Kären of Falmouth; his sister Jean Macmaster Towne and husband Fred of Center Strafford, NH, his mother-in-law Shirley Griffin of Falmouth; his nephews Jason Macmaster and Lance Macmaster and their families, his nieces Katie Griffin, Donna Leighton and Lori LaFramboise and their families and a close family friend Jeanette Haskell.
The family extends a special thank you to friends and family, Bill and Karen King, the staff of Maine Medical Cancer Center Institute, Dana-Farber Cancer Institute, Brigham & Women's Hospital, and the Gosnell Memorial Hospice House for their support and encouragement during Everett's illness.
In lieu of flowers memorial donations may be made to St. Jude's Children's Research Hospital, 501 St. Jude Place, Memphis, TN 38105; Kora Temple, 11 Sabattus Street, Lewiston, ME 04240 and the Gosnell Memorial Hospital House, 11 Hunnewell Road, Scarborough, ME 04074.
 A celebration of Everett's life will be held on Sunday, May 16th at the Woodford's Club located at 179 Woodford's Street, Portland, ME.  Visiting hours will be held from 12:00 p.m. until 1:00 p.m. followed by the service at 1:00 p.m. and a light luncheon.  At Everett's request dress is casual