« Obituaries | Alexander "Mac" H. MacKenzie
Alexander "Mac" H. MacKenzie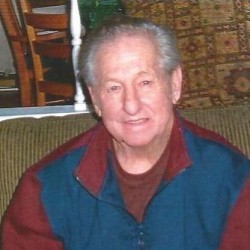 Date of Death: January 25, 2013
Date of Birth: July 21, 1938
Biography:
AUBURN - Alexander 'Mac' H. MacKenzie, 74, of Lisbon, died on January 25th, 2012 of pancreatic cancer at Hospice House with his loving family by his side.
He was born on July 21st, 1938 in Boston, MA the son of William and Amelia (Sanborn) MacKenzie.
Mac graduated from Billerica High School in Boston. He then served his country proudly in the US Navy from 1955-1975 where he was stationed in Brunswick and was a Survival School Instructor in Rangeley. He married Anne Gagnon on June 13th, 1987.
After the military he then went on to work as a bowling center manager at Holiday Lanes for 15 years. Then he worked for Papa John's in OH as a managing maintenance mechanic for 15 stores before retiring in 1998.
Mac was also a member of the Holy Family Church.
He enjoyed horseshoes, fishing, cooking, camping, watching the Red Sox and Patriots, and especially enjoyed being with his family.
Mac is survived by his beloved wife of 25 years, Anne MacKenzie; daughter Michele MacKenzie of Litchfield; daughter in law Kathy MacKenzie of Louisville, KY; grandchildren Samantha, Phillip, Alexus MacKenzie; brothers Duncan and Johnny MacKenzie of Mass.; sisters Unamay Messina of Okla., Cecilia Deneau and husband Louis, Margaret McCarthy of NH; In-Laws Simonne and Russ Pelletier of Litchfield, Robert and Donna Gagnon of Livermore, Rodney and Pauline Gagnon of Auburn, Richard Gagnon of Lewiston, Dick and Verma Lagasse of Topsham; and several nieces and nephews. He was predeceased by his son William MacKenzie; brothers William MacKenzie, Joey MacKenzie; sisters Loretta Robichaud, Tina Petrangeleo.
The family would like to thank Dr. Austin and the entire staff at the Hospice House for there wonderful care.
NOTICE
MACKENZIE

Alexander 'Mac" H., 74, of Lisbon, died on January 25th, 2012 of pancreatic cancer at Hospice House with his loving family by his side. Family and friends are invited to a memorial visitation on Saturday, February 2nd, from 9 AM to 11 AM at Funeral Alternatives with a memorial service to follow at 11 AM with military honors. Committal services will be in the spring at Maine Veterans Cemetery, Augusta. Donations may be made in Mac's memory to Androscoggin Home Care & Hospice, 15 Strawberry Ave., Lewiston, ME 04240. Arrangements by Funeral Alternatives Group, 25 Tampa St., Lewiston.