« Obituaries | Frank (Frankie) Mark MacDonald
Frank (Frankie) Mark MacDonald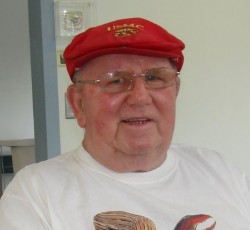 Date of Death: July 22, 2015
Date of Birth: October 15, 1936
Biography:
 Frank (Frankie) Mark MacDonald, 78, died July 22, at Rumford Community Home.  He was born in Rumford on October 15, 1936, the son of James C. and Gladys H. MacDonald. He graduated from Stephens High School in 1954 and enlisted in the US Navy.
 Frankie worked out of the area in construction for a number of years.  Upon returning to Rumford, he lived with his brother, Jim.  Thanks to many friends he met over the years, he spent winters in Florida or Hawaii.
            He resided with his niece, Vicky Hughes and her husband, Kevin, of Andover prior to admission to the Rumford Community Home and was especially close to them as well as other nieces, Tawn MacDonald and Lisa McPhee.  He was close to his many nieces and nephews and enjoyed many family outings.
            Survivors include his sisters, Rosabelle Tifft, Bethel; Sally Brown, Mexico; and Gladys (Toto) McDonald and her husband, Daniel Sr, Rumford. Nieces: Vicky Hughes and her husband, Kevin, Andover; Tawn MacDonald, Lewiston; Lisa McPhee and her husband, Wayne, Rumford; Diane Austin and her husband, Preston, Mexico; Debra Melanson and her husband, Albert, Woolwich; Cynthia Aiken, Yarmouth; Cindy Gammon and her husband, Bear, Andover; and Sandee Gordon and her husband, Glenn, Mexico; Peggy MacDonald, New Hampshire.  Nephews: Doug Brown and his wife, Debra, Peru;   Danny Brown, Mexico; Clifford MacDonald and his wife, Renee, Dixfield; Daniel McDonald, Jr., and his wife, Jessica, Rumford; Kevin McDonald and his wife, Becky,  Rumford; Frank McDonald and his wife, Doreen, Leominster, MA; Timothy McDonald and his wife, Julie, Eagle River, Alaska; Bob Tifft and his wife, Sue, Buckfield; John Beardlsey, Rumford, and a number of grand nieces and nephews. 
            He was predeceased by his parents, James C. MacDonald and Gladys;  brothers Jim, John and Raymond; sisters Victoria Conley, Catherine MacDonald and Margaret Goggin ; and great Uncle Frank Singer. 
            A Mass of Christian burial will be celebrated at St. Athanasius St. John's Church, Rumford, on Sat., August 1, at 10 am.  Burial will be at St. John's Cemetery. The family wishes to thank the staff at the Rumford Community Home for their kindness and care of Frankie over the past four years.