« Obituaries | Michael Thomas MacDonald
Michael Thomas MacDonald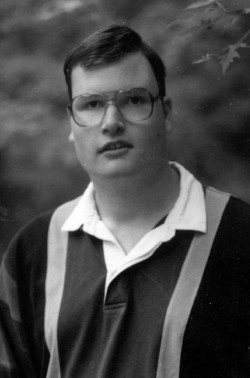 Date of Death: April 15, 2011
Date of Birth: December 7, 1976
Biography:
AUBURN — Michael Thomas MacDonald, 34, of Auburn, passed away at the Hospice House of Androscoggin Home Care and Hospice on Friday, April 15.
He was born in Lewiston Dec. 7, 1976, a son to Thomas, Jeannette (stepmother) and Helen (mother) MacDonald. Mike graduated from Edward Little High School in 1996.
Shortly after graduation, he moved to Buckfield, where he resided at a John F. Murphy Home, eventually moving back to Auburn to live on Pownal Road.
Mike was always willing to help out around the house whenever someone needed a hand. He enjoyed camping at Pine Tree Camp, participating in the Special Olympics and playing basketball or pool. Mike spent a lot of time taking pleasure in watching movies. If he wasn't found at home, he was usually out in the community visiting over coffee.
Mike was diagnosed with Hodgkin's lymphoma in 2007, but was not treated for the disease. In September 2010 he began to take ill from an intestinal sickness and required many operations to correct the disease. He never fully recovered, inevitably causing his passing at a young age.
Mike is survived by his parents, Thomas and Jeannette MacDonald of Poland; two step-siblings, Daniel R. Tremblay of Livermore Falls and Joanne G. Tremblay of Auburn; his former sister-in-law, Lisa Tremblay, and a niece, Courtney R. Tremblay, of Hartford; his mother, Helen MacDonald of New Hampshire; and many aunts, uncles, cousins, friends and caregivers.
Mike's family would like to express a special thank-you to all the wonderful staff at John F. Murphy Homes, which has taken great care of him over the years.