« Obituaries | Cabot Lyford
Cabot Lyford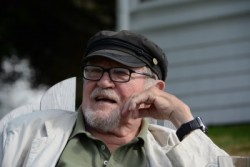 Date of Death: January 21, 2016
Date of Birth: May 22, 1925
Biography:
NEW HARBOR - Cabot Lyford, sculptor, of New Harbor, Maine passed away peacefully on January 21, 2016 at the Bodwell Hospice of the Midcoast Senior Health Center in Brunswick, Maine after complications of a heart attack and other health issues. He was 90 years old.
Mr. Lyford was born in Sayre, Pennsylvania in 1925, the second of four children of Frederic Eugene Lyford and Eleanor (Cabot) Lyford. He lived the first years of his life in Waverly, NY and subsequently in Upper Darby, Pennsylvania and Scarsdale, NY. Following graduation from Scarsdale High School in 1942, he started at Cornell University, majoring in architecture but the war intervened, interrupting his studies.
During World War Two Lyford served with the 96th Infantry Division in the south Pacific. He participated in the assault landings and subsequent campaign on the island of Leyte, Philippines in late 1944. He served in combat as a rifleman, runner and scout. After the campaign ended in early 1945, he was reassigned as a draftsman with the Signal Corps in Cebu City on the island of Cebu, Philippines where he remained until the end of the war drawing maps and conducting lectures. While there, he also drew self portraits or drawings of local people and landscapes.
In January 1946 Lyford returned to Cornell University and changed his major, completing a Bachelor of Fine Arts degree in 1950. He spent the summer of 1947 at the Skowhegan School of Painting and Sculpture in Skowhegan, Maine where his interest in sculpture blossomed. Lyford's early career drew him to New York City and the growing television industry. He wrote, directed and produced television shows and commercials with J. Walter Thompson and NBC. In 1953, he married Joan Richmond and started a family. They remained there until 1957 when Lyford moved to Cambridge, Massachusetts to take a position in educational television at WGBH Channel 2 in Boston, and then on to help establish WENH Channel 11 in Durham, New Hampshire. Finally, in 1963, Lyford saw his chance to pursue his art more directly and accepted a position teaching art history and sculpture at Phillips Exeter Academy in Exeter, NH. He remained there for 23 years, eventually leading the Art Department and as director of the Lamont Gallery. During that time he established a private studio in a disused chicken coop to carry on his work begun in a Durham carport. It was here he was able to focus on his sculpture when not teaching and began to create larger works, including a sculpture of large wooden geese for the Mount Sunapee ski area in Sunapee, NH.
Lyford worked in metal, wood, as well as various types of stone including marble, slate, beach stones and granite. The latter was by far his preferred medium, particularly black granite. His work ranged from sensuous nudes, animated animals, and whimsical political commentary to abstract assemblages of shapes or puzzles.
His work is represented in numerous public and private collections including that of Colby College, the American Museum of Art in Ogunquit, Maine, Portland Museum of Art, University of New Hampshire and many more. His public work is to be found all across the northeastern United States at schools and museums: New Bedford Whaling Museum, the USS Albacore submarine museum in Portsmouth, NH; Prescott Park, Portsmouth, NH. At Four Tree Island in Portsmouth, NH stands perhaps his most monumental work "My Mother the Wind", a granite mother and child fleeing to the New World in search of a better life. His work "Life Force", a 12-foot tall granite column depicting three leaping dolphins stands at the front of the Regency Hotel in Portland, Maine. Lyford was also a skilled watercolor painter who compared the difficulty of that medium to that of stone where there was no margin for error.
Lyford held strong opinions on almost any topic, but was particularly active in the political sphere. All through his life, few politicians or denizens of the editorial pages were spared his sharp tongued letters, the clatter of his typewriter sounding like a machine gun to his children. It was used to deflate war mongering, injustice, bad taste and just plain stupidity. Having witnessed first hand war's ugliness and brutality, he was committed not only to the peaceful resolution of global conflict but also filling the world with beautiful things. He actively participated in anti-Vietnam War, Gulf War and Iraq War activities.
An athlete in his youth, Lyford was a particular fan of football, having played in high school and college. For many years a die-hard fan of the New York Giants, later in life he changed his loyalties to the New England Patriots. He was also an active skier and a sailor. When he and his wife Joan acquired a summer home in her ancestral region of Pemaquid in 1963, sailing was an important outlet for him. Working as a teacher Lyford could spend the entire summer in Pemaquid with his family, he carving and sailing, before returning to Exeter in the fall with a trailer full of sculptures ready for galleries.
Lyford retired from Phillips Exeter in 1986 and he and Joan moved to Pemaquid year-round and to his art full time. Hundreds of sculptures and paintings were created and exhibited during the next twenty-five years. Eventually the physical demands of carving stone became too much and he, reluctantly, gave it up. He continued with carving wood until, that too, was too much for his arthritic hands. Painting remained an outlet until the last two years.
With the loss of Joan in 2014, his wife of over sixty years, and continued health problems of his own, he himself succumbed in early 2016. He will be missed by his many friends and family.
Cabot is survived by numerous nieces and nephews, three children and their spouses: Matthew and Kazuye Lyford of Exeter, NH; Julia Lane and Fred Gosbee of Round Pond, Maine; Thaddeus and Ellen Donati Lyford of South Portland, Maine. In addition, he has four grandchildren: Caleb Lane of Sjoa, Norway; Bronwen Lane Hanna of Pemaquid, Maine; Musashi Lyford of Hampton, NH; Harmony Kummer of Los Angeles, CA. Lyford also has three great-grandchildren.
In lieu of flowers, please make contributions in his name to local arts or peace organizations.
Photograph credit to Allan Ludwig.