« Obituaries | Lois A. Lydon
Lois A. Lydon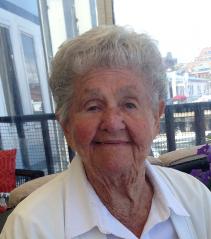 Date of Death: February 25, 2016
Date of Birth: December 30, 1930
Biography:
Portland - Lois A. Lydon 85, passed away at Maine Medical Center on February 25, 2016 after a brief illness. She was born on December 30, 1930, a daughter of the late George and Elizabeth
(Worthley) Libby.
Lois worked for many years at the large local bakeries:
Finest, Nissens,and A&P, all for the same union.After retirement She moved to Key West for 20 years making many new friends as she worked part time as a bartender.
While there she enjoyed swimming a mile a day. She also enjoyed all her friends at the Deering Pavilion and the Paul Mailia post Lois was a member of the Eagles Club, American Legion, VFW, and was very active within her union BCTGM Lois is survived by her children, Peter Sullivan and his wife Vicki, Paul Lydon and his wife Paula, All of Portland and a sister Reta Leighton of Scarborough.
Grandchildren Kristopher Sullivan and Ashley Lydon, as well as a niece Regina Grenier.
A Celebration of her Life will be scheduled for a later date. Memorial donations may be made in Lois' memory to the Women's Auxiliary, American Legion Post 161, 42 Atlantic St. Portland, ME 04101.