« Obituaries | Willard "Joe" Luttrell
Willard "Joe" Luttrell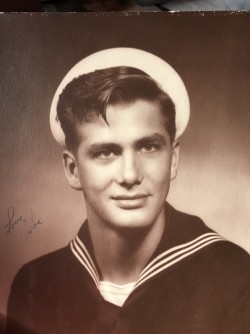 Date of Death: January 13, 2023
Date of Birth: June 15, 1934
Biography:
Willard (Joe) Luttrell (88) passed away peacefully on January 13th, 2023 in Damariscotta, Maine, after a period of declining health.
Joe was born on June 15th, 1934 in Amoret, Missouri, to Willard Isom and Zona Irene (Elmore) Luttrell. He was the fourth child and only boy in his family. His parents divorced when he was young. Then Joe dropped out of high school after the 10th grade and went to work in a shoe factory. As soon as he was old enough, he enlisted in the navy, where he was in active duty for four years, and then a reservist for another four. He was in the Pacific Ocean during the last few months of the  Korean conflict, but never saw any action. He did, however see a lot of sights while in the navy, including much of the west coast of the US, Hawaii, and Japan. While he was in the navy, he met Dolores Jean Daniel, and they developed their relationship through letters, then married on
September 12th, 1954. 
They had three daughters, and lived in Cheyenne, Phoenix, and Colorado Springs, thanks in part to his love of travel and new places. Joe always had "itchy feet", and made sure that the family saw all the sights there were to see within driving distance. These sights included Yosemite, the giant redwoods, the coastal (Pacific) highway, Yellowstone, many of the parks in Utah, the Hoover Dam,
Mesa Verde, and the Grand Canyon. There were camping trips in the Rockies, trips to the summit of Pike's Peak, and nearly annual trips across Kansas to see the relatives in Missouri.
He loved nature and taught his daughters to see the beauty in all the different parts of the country, to never EVER litter, and to leave every place you went in better condition than you found it.
Joe and Dolores divorced in 1978, and he moved out to Santa Rosa California, where he would spend most of the rest of his life. There he met and married his second wife, Cheryl. That lasted a few
years before they divorced. Later, he met Doralae Marciel Thomas, and though they never married, he stayed with her, caring for her through a long illness, until the end of her life.
After the loss of his "lady" in 2021, he moved to Phippsburg, Maine, to live with his middle daughter, Dana. Joe was predeceased by his parents, Doralae, first wife Dolores, sisters Blanche Weatherman and Lena Johnson, and grandsons Jonathan Marshall and Nicholas Colatarci.
He is survived by a sister, Martha Weller, his three daughters, Elizabeth (and Bill) Keller, Dana (and Rob) Marshall, and Marilyn Colatarci, Doralae's daughter Dawnda (and Dave) Schaefer, nine
grandchildren, eleven great-grandchildren, and various nieces and nephews.

There will be no services, but family will be gathering sometime this summer to take his ashes out to the sea that he loved.