« Obituaries | John Johnny Thomas Luttrell
John Johnny Thomas Luttrell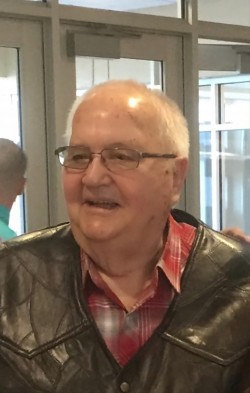 Date of Death: June 14, 2022
Date of Birth: May 21, 1937
Biography:
AUBURN – John "Johnny" Thomas Luttrell of Auburn, passed away on June 14, 2022 at the age of 85 peacefully at the Androscoggin Hospice House Auburn.
John was born in Lewiston, May 21, 1937 to the late Leonard and Lillian Luttrell. He graduated from Edward Little High School 1956. He married the late Patricia A. Coy June 27, 1957. They had four children Kevin, Timothy, Karen and Bruce.
He worked briefly at Falcon Rule in Auburn before starting a career in the grocery business, starting at Bruce Adders, then Progressive Distributors before retiring from Hannaford Brothers.
John was a member of Kora Temple Lewiston. He was dedicated to the Shriners mission no matter the task asked of him. He was a member of the Second Section; Kora Clowns. He volunteered and worked the Shrine Circus events for several years. John was a Life member of Put Stevens Royal Order of Jesters. He was a member of the Tranquil Lodge #29 of Auburn, The Scottish Right of Maine. He was a past DeMolay Dad Advisor and supported many events for the Lewiston Assembly Rainbow for Girls.
Most of all, John enjoyed spending time with his family, grandchildren, great-grandchildren, many friends, and grand dogs. In his younger years he enjoyed camping with his family every summer. John was known for making people laugh, having a good time and loved being in the middle of whatever was going on. John had several years of limited mobility to due back injury. He learned how to play games online and developed many friendships. After his wife "Pat" passed he lived at Clover Healthcare where he enjoyed many new friendships and valued his roommate Stephen Smith.
John is survived by his four children. Kevin J. Luttrell of Sacramento, Cali., Timothy J. Luttrell and his partner Sue Nadeau of Turner, Karen S. Luttrell of Lewiston, Bruce B. Luttrell of Cumberland; seven grandchildren; seven great-grandchildren; many grand dogs; two brothers and sisters-in-laws; nieces and nephews; and cousins. He was predeceased by his parents Lillian and Leonard Luttrell; brothers Bruce, Leonard, twin Jim, sister Anita Dutton, and his wife Patricia A. Coy.
Arrangements are under the care of Funeral Alternatives Tampa Street Lewiston.
Celebration of John's Life will be held Graveside June 25, 2022, at 11 a.m. Gracelawn Memorial Park 980 Turner St. Auburn, Maine. The family will be hosting a reception immediately following the service at the Auburn Masonic Hall 1021 Turner St., Auburn, Maine.
In keeping with John's legacy, in lieu of flowers, donations can be made to:
Shriners Children's
of New England
516 Carew St.
Springfield, MA 01104