« Obituaries | Russell C. Lund
Russell C. Lund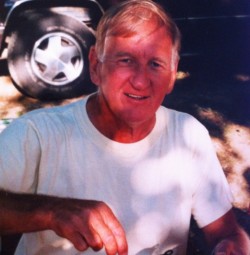 Date of Death: January 30, 2012
Date of Birth: February 17, 1932
Biography:
Portland-Russell C. Lund of Windham, Maine passed January 30th, 2012. Russell was born on Feb. 17, 1932 son of Albert and Marie Lund of Falmouth, where he lived up until the last eight years when he and his wife moved to Cumberland and subsequently to Windham
Russ was a 32nd degree Mason, and for many years he was a member of the Society for the Preservation and Encouragement of Barbershop Quartet Singing in America. He was a member of many quartets in that society, the last being Fanfare which competed on the international stage two different times. They were district champions for the Northeast District. He also sang in his church choir. He was a member of Emmaus Lutheran Church in Falmouth up until five years ago when moving to Windham and since that time has been a member of Faith Lutheran Church.
Besides singing, Russ enjoyed bowling, golfing, boating on Big Sebago and Casco Bay and swimming. He enjoyed many trips with his wife and their dear friends, Roy and Jill Peppiatt.
Russ served in the U.S. Navy for two years upon graduating from Falmouth High School and was stationed at Patuxet River, Maryland.
He was employed by J.B. Brown, Jordan Meats, was self employed as a consultant, Songo shoe, and retired from Cole-Haan in 1996 where he was in charge of distribution services.
He was pre-deceased by his mother and father, sister, Frances Googins; a niece, Kristen Nelson; and first wife, Frances Washburn.
He is survived by his wife, Elaine (Kloth) Lund; children, Pamela Nicely, Paula Roberge, and John Lund; grandsons, Craig Nicely, Jacob Nicely, Lee Ruby, John Coty Lund, and Nicholas Lund; sister, Janet Nelson; sister-in-law, Jane Peterson, brothers-in-law, Luther Kloth, David Kloth, and Stephen Kloth. He has several nieces and nephews.
There will be a memorial service celebrating Russ's life on Saturday February 4, 2012 at 1:00 PM at Emmaus Lutheran Church, 265 Middle Road, Falmouth, ME. There will be a private interment in the spring.
In lieu of flowers the family suggests donations to VNA Hospice, 50 Foden Road, South Portland, Maine 04106, Alzheimer's Association, or Faith Lutheran Church, P.O. Box 1465, Route 302, North Windham, Maine 04062.
The family would like to express their sincere gratitude to the staff at Fallbrook Woods, Ray Street, Portland, Maine for the care Russ received for the last six months. and to the staff of VNA Hospice: Amanda, Tammy, Jennifer, and Ann,  who cared for Russ during the last few months as well.