« Obituaries | Robert E. Lumbert
Robert E. Lumbert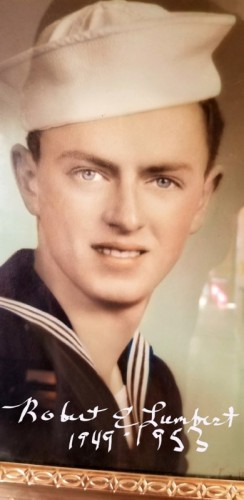 Date of Death: January 25, 2018
Date of Birth: January 26, 2018
Biography:
On January 25th 2018 Robert E. Lumbert, 87 of Cundy's Harbor passed away peacefully at V.A Togus Hospice surrounded by family.  Robert was born January 26th 1930 on Oakhurst Island Maine. Robert was formerly of Richmond.
He served in the U.S. Navy from 1949 to 1952 and was honorably discharged.  He was assigned to the U.S Albany.  Robert worked at Bath Iron Works, Bowdoin College, Kent's Market, was manager of Ace Ambulance in Hallowell for more than 20 years and worked at Eaton Shoe Factory for many years in Richmond until his retirement in 1990.
Upon retirement he moved from Richmond to Cundy's Harbor to care for his mother until her passing and then cared for his sister, Florence, until her passing, in the family home.    He was an active member of the Church of Nazarene in Cundy's Harbor and Maine Coast Men. He enjoyed Gardening and was known to have a green thumb. One of his favorites pass times was playing the organ, piano and singing songs to those who liked to listen.
Robert is predeceased by his father, Charles E. Lumbert, his mother Ethel Geekie, son Philip Lumbert, sister Florence Alexander, and grandson Gregory Lumbert Jr.
Robert is survived by his daughter, Ellen Gammon and husband Frederick of Litchfield, Ethel Jarvi and husband Donald of Richmond, his son Greg Lumbert and wife Michele of Pittston, Grand Children Elizabeth Hunt-Gregoire, Tabatha Lumbert, Gregory Griatsky, Mercedes Bibber-Griatzky, Donald Jarvi Jr, and Jessee Jarvi.  He had several great grandchildren and his favorite dog "Moxie".
There will be a celebration of Life at Cundy's Harbor, Church of the Nazarene, located on 826 Cundy's Harbor road, Cundy's Harbor on February 3rd at 2 p.m.  A celebration of life gathering will follow afterwards for family and friends. Location will be the church parsonage.
In lieu of flowers donations can be made to the following:  Meals on Wheels, Togus Springs Hospice or Cundy's Harbor Nazarene Church.  There will be a burial in the Spring to be announced later.