« Obituaries | Ruth Marion Lovett
Ruth Marion Lovett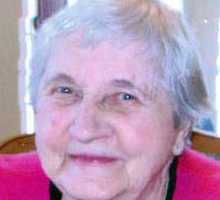 Date of Death: June 28, 2013
Date of Birth: January 24, 1924
Biography:
SABATTUS — Ruth Marion Lovett, 89, died June 28, at home, with her family by her side.
She was born Jan. 24, 1924, in Lowell, Mass., to Raymond and Hazel Shaw.
Ruth grew up in Maine and Massachusetts. She graduated from high school in Revere, Mass. She went on to be an x-ray technician and worked at several hospitals until she married in 1948. Then she was a stay-at-home mom, raising her family in Saugus, Mass. She and Herb moved to Leeds in 1986 and then to Lewiston in 2000, when Herb became ill.
She was a lifelong learner who went to college after her children had grown up. She received her BA in human services from UMass in 1983. For many years, Ruth had been active in several local singing groups. She enjoyed family gatherings, reading and singing. She attended many classes at LAC's senior college.
Ruth was a very gracious and loving wife, mother, grandmother and friend. Her smile and kind words will be missed by all who knew her.
She is survived by her daughter, Ruth and John Reynolds; son, Bruce and Prasert Lovett; grandchildren, Ruth Lovettsmith, Bruce Lovett and John Arico; and several great-grandchildren.
She was predeceased by her husband, Herbert Lovett; and son, Dr. Herbert Lovett.
The family would like to thank the caring staff (especially Molly and Dorrine) at Androscoggin Home and Hospice, who made it possible for Ruth to remain at home during her illness.
There will be no services.