« Obituaries | Oliver "Lee" L. Loring Jr.
Oliver "Lee" L. Loring Jr.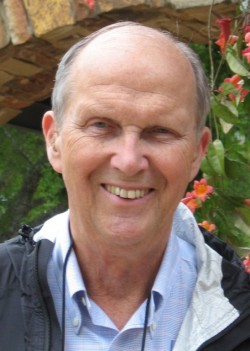 Date of Death: June 4, 2014
Date of Birth: October 27, 1938
Biography:
Oliver L. "Lee" Loring Jr.
CUMBERLAND FORESIDE — Oliver Leland Loring Jr., 75, died June 4, 2014 at Gosnell Memorial Hospice House. Lee was the husband of Maureen Ann Connolly. For 14 years, Lee lived with advanced prostate cancer the same way he lived his more than 27 years of sobriety: One Day at a Time. After a career as a reporter for newspapers, wire services, radio and television, he was proud to be an L.L. Bean employee for 26 years.
Lee was born October 27, 1938, in Fall River, MA, the son of the Rt. Rev. Oliver Leland Loring and Elizabeth Brewster Loring. As a child he lived in New Bedford and South Dartmouth, MA, before moving to Portland in 1941 when his father was named the fifth Episcopal Bishop of Maine. Lee attended Waynflete School, and Kent School, Kent, CT, Class of 1957. He was a member of the Class of 1961 at Harvard College, but after his freshman year, enlisted in the U.S. Army, serving as a cryptographer in Japan. Following military service, he returned to Harvard to complete a degree in political science.
He joined the reporting staff of the Portland Press Herald and later became a reporter for United Press International, and, for a short time, The Associated Press. Lee was co-host of the nightly Maine News and Comment on Maine Public Television and Radio and taught broadcast journalism courses at the University of Maine. He went on to become a reporter, weekend anchor and assignment editor at WCSH-TV, Channel 6, Portland. In Fall 1987, Lee was hired as a seasonal processor in the Returns Department at L.L. Bean and soon after became a full-time Returns employee, saying he was happy to have a job where he knew he was useful, in a company with rich traditions.
Lee L. was an active member of Alcoholics Anonymous, attending meetings across Southern Maine, often as part of group commitments and in institutions such as the Cumberland County Jail. He served AA on the District level and attended many AA State Assemblies and the annual summer Roundup at Sugarloaf. He studied the history of AA and was pleased to have visited the homes and graves of both Bill W. and Dr. Bob.
He participated in several prostate cancer clinical trials at Dana-Farber Cancer Institute, not only to address his own disease, but to help other men, as well.
Lee found joy and satisfaction in going out for breakfast with a group of guys, reading The Economist and Wall Street Journal, keeping the bird feeders filled, and napping in the sun with a radio tuned to a Red Sox game. He was a gentleman, handsome and quiet, with a deep spirituality, keen intellect and sense of humor, and deep gratitude for a life well lived.
Lee and Maureen were married in September 1981. Previously, he was married briefly to Martha J. Holden of Vermont.
He was predeceased by his parents and sister Elizabeth Loring Sewall Throop. In addition to his wife, he leaves a brother, Stephen H. Loring MD and wife Hilary of Andover, MA; nieces Christina Sewall of Walpole and Ledlie Loring and husband Will Ikard of Newcastle; nephew Benjamin Loring and wife Inna of Bethesda, MD; his mother-in-law Evelyn Connolly of West Newbury, MA, along with the many Connolly siblings, nieces and nephews that he embraced wholeheartedly. He took great pleasure in the companionship of his beloved dog and two cats.
Lee's wish was that his life be honored by family and friends with love, friendship, and fellowship. A memorial gathering will be held at Camp Hammond, Yarmouth, ME,  Sunday, June 29, from 2 to 4. His ashes will be buried with military honors at Bridge Street Cemetery, West Newbury, MA.
Memorial donations, in lieu of flowers, would be welcomed by Hospice of Southern Maine, Scarborough;  Kent School, Kent, CT, for the Faculty Support Fund; or Dana-Farber Cancer Institute, Boston, for prostate cancer research.