« Obituaries | George Edward Long
George Edward Long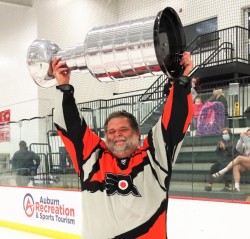 Date of Death: August 15, 2023
Date of Birth: November 16, 1962
Biography:
George Edward Long, 60, of Wales died on August 15th, 2023 at his home. He was born on November 16th, 1962 to Nancy J. Long of Natick, MA.
George was a member of LASHL, and many professional organizations. He loved his hockey team and spending time with his wife and daughter.
George worked for Aggreko for almost 25 years as an event specialist, touring the world doing music festivals, major sporting events, and Olympics.
He was predeceased by his grandparents, George J. and Helen M. Long of Natick, MA.
Surviving him are his wife, Sonia Long; his daughter Simone Long; and mother, Nancy J. Long.
A memorial visitation will be held from 4:00pm until 7:00pm on August 23rd, 2023 at Funeral Alternatives 25 Tampa St. Lewiston, Maine 04240.