« Obituaries | Patricia A. Lobley
Patricia A. Lobley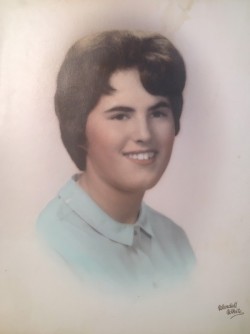 Date of Death: January 10, 2018
Date of Birth: August 21, 1945
Biography:
TOPSHAM - Patricia Ann Robbins Lobley, 72, passed away on January 10, 2018, at Maine Medical Center, surrounded by her beloved family, after a hard-fought battle with leukemia.
Patricia was born on August 21, 1945 in Wareham, MA to Ralph E. and Elizabeth Sturgis Robbins. At the young age of 10, upon her parents' passing, she moved to Cape Elizabeth, ME to live with her aunt and uncle, Allen and Midge Hamilton. She graduated from Cape Elizabeth High School in 1964, and the University of Maine at Machias in 1968 with a bachelor's degree in elementary education. Following graduation, Patricia married her husband of 50 years, David Lobley.
Patricia and David began their teaching careers in Lebanon, ME, though they soon moved to Mississippi when David enlisted in the Air Force in 1969. There, Patricia taught second grade at an inner-city school in Gulfport. She subsequently accompanied her husband to Karamursel, Turkey, where they lived for 3 years. While there, Patricia was active in athletics, participating in basketball and softball leagues on base, and befriending many who would become lifelong friends.
Patricia and David returned home to Maine in 1973 to await the birth of their first child, Jennifer. They initially settled in Portland, and later Cumberland, where two more children, Christopher and Amanda, followed.
Throughout her life, Patricia demonstrated a love of teaching, and was in her element when working with children of all ages. For many years, she supervised The Magic Dragon summer pre-school program in Cumberland, and also owned her own pre-school, The Hobbit House Nursery School.
Patricia enjoyed a lifelong sense of adventure and spending time outdoors. She instilled a love of camping, spontaneity, and fun in all three of her children, who continue their yearly camping tradition to this day. Additionally, Patricia taught her children determination, perseverance, bravery, independence, how to remain calm in a crisis, and how to remain steadfast in the face of adversity. She was practical and loyal, tenacious and selfless.
In later years, Patricia worked for L.L. Bean, and Goodwill Industries in Falmouth, ME. She retired in 2015 to spend more time with her grandchildren.
Patricia was predeceased by her father, Ralph E. Robbins and her mother, Elizabeth Sturgis Robbins. She will be forever missed, and is survived by her husband, David of Topsham; her children Jennifer of Providence, RI; Christopher and his wife Summer of Unity; Amanda Worcester and her husband Brad of Lewiston; and five precious grandchildren, Dylan, Andrew and Ireland Lobley, and Juliet and Maddox Worcester.
In addition, she is survived by her sister Gail Robbins Ellis and her husband Harold of Topsham, her brother Ted Robbins and his wife Carol of Estero, FL, her sister-in-law Jane Lobley McKinney and her husband Tom of Brunswick, as well as many dear nieces and nephews, and steadfast, precious friends.

Family and friends are invited to attend a service of remembrance Wednesday, Jan. 17, 2018 at 1:00 p.m., at St. Peter's Episcopal Church, 678 Washinton Ave., Portland, with reception to follow immediately afterward. Interment will be held in the Spring at Mount Hope Cemetery in Bangor.

In lieu of flowers, gifts may be made to Dana-Farber Cancer Institute in Patricia's memory to support cancer research and patient care at:
Dana-Farber Cancer Institute
P.O. Box 849168
Boston, MA 02284
or via www.dana-farber.org/gift.