« Obituaries | Maurice Leveille
Maurice Leveille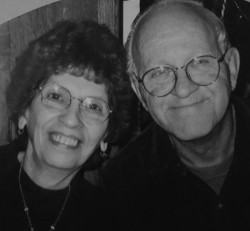 Date of Death: February 24, 2017
Date of Birth: July 6, 1934
Biography:
LEWISTON-Maurice Leveille, 82, went on February 24th to join his wife Bertha, who passed just four months ago. They met at a county fair in Lincoln,she later wrote him a letter asking him to a dance. Their dance lasted more than 56 years. His journey here was complete and they are together again, truly happily ever after.
Maurice was born to Oscar and Eva , French Canadiens, in Berlin  NH on July 6th 1934. He moved to Millinocket in 1940 where he learned to speak English in school.
He was in the Army and served during the Korean War from 1953-1956 where he was a heavy equipment operator. He received the National Defense Service Metal.
Maurice was an avid hunter and fisherman all his life, he helped his father build the family camp by cutting and peeling over 600 logs. It carries great memories. He later had a small hunting camp where his buddy and brother in law, Bob and son, Jeff shared great times. A loving husband, father and grandfather with a big heart and sentimental soul. He was happy watching the birds and deer in his yard, getting his lottery tickets and a Red Sox and Patriot fan. Watching the winning game at home with his son was a special moment.
Our world has forever changed and will miss that boyish smirk of yours. We have peace knowing you and mom are together again and we know you are watching out for us all. Fly high with your birds and loved ones until we see you again.
He is survived by his children, daughter Sherry and her husband Stan Camic of Greene. Son Jeffrey Leveille and wife Jennifer Kirley of South Carolina. Daughter Wendy and her husband  Michael Pelletier of Augusta.
 Seven grandchildren Theresa Armstrong, Randi Michaud, Kristen Camic, Robert Leveille, Elena Leveille, twins Casey and Cameron Brochu. Also blessed with four great grandchildren this past year that brought great joy, Aiden, Jack  and Twins Lily and Lila.
He is also survived a sister Madeline Dinsmore of Lewiston.
He was predeceased by his parents, Oscar and Eva, his brothers Raymond and Robert, a sister Rita Montgomery and his wife four months ago, Bertha.
A celebration of life will be held for both Maurice and Bertha on April 2nd at the American legion post 2, 213 Capital St, Augusta 12:30 to 3:30pm. In lieu of flowers, should friends and family desire, donations may be made to Veterans Memorial Cemetery association po box 942 Augusta ME 04332  in memory of M & B  Leveille  for a memorial bench in the cemetery.An internment will be held at the chapel at the Maine Veterans Cemetery, Mt Vernon Road Augusta at 10 a.m on April 3rd